The frequency and scale of regulations relating to Global Structural Reform (GSR) may make us light-headed, but for many banks and institutions opportunity resides within this changing marketplace.
In my previous posts we talked about how GSR is driving permanent change in the financial services industry, and delved into specific trends. Banks, insurers and capital markets firms are beginning to make adjustments to the changing marketplace, and are getting more selective about what they offer and who they serve.
But reactive response is not the only available option. Accenture's 2015 Global Structural Reform Study (link to page) cites some of the potential that comes with sweeping GSR changes. Granted, all institutions differ, yet following these broad GSR guidelines can help banks find and stay on the right track:
Although changes come rapidly and immediate response may be needed, banks should never lose sight of the need for a long-term response. That means thinking end-to-end across the various regulations, across geographies, and across business and operating model impacts. What are the holistic impacts to the business, across all countries and operating units? Nearly all (96 percent) of respondents to our 2015 Global Structural Reform Study agree that defining a clear strategy and identifying concrete objectives are important to responding effectively to regulatory reform.
Even before the dust settles, financial providers should begin to seek out the potential value in the reforms facing them. Institutions that wait until regulations have been implemented will be too late. But as various regulatory requirements are under consideration, banks and institutions should assess the business impact and evaluate their response. Significant decisions are at play, such as: Should our institution act globally, or locally? Which is more advantageous, given new regulations and market conditions? Similarly, are new opportunities to specialize coming into play? Is there a way to open a niche that can help create competitive advantage? Will there be any potential impact to reputational risk—and how can that be addressed or avoided?
Providers can anticipate roadblocks that may pop up from GSR, identify responses and demonstrate the value of those responses to key stakeholders. Encouraging energetic stakeholder support can make the change journey a smoother one, encouraging key players to focus on making needed strategic decisions instead of losing those stakeholders to worry, fear or lack of confidence.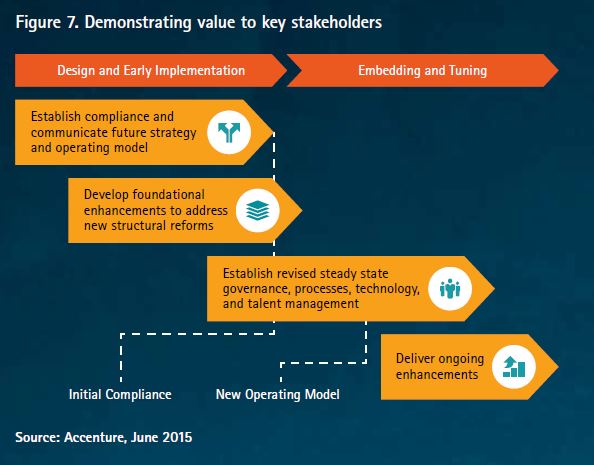 In many ways, preparation is the name of the game when it comes to GSR. Solid preparation can position financial services institutions to proactively seek out the value that may reside within new regulations. For financial institutions that strategically employ a big-picture approach to GSR, reform may drive positive, profitable outcomes, now and in the longer term.
For more details, see the results of Accenture's Global Structural Reform Study.