In 1959 US President John F. Kennedy made an interesting observation when discussing the nature of change. He pointed out that "when written in Chinese, the word 'crisis' is composed of two characters. One represents danger and one represents opportunity."
When European banks think about the European Union's revised Payment Services Directive (PSD2), most are likely to see the danger rather than the opportunity.
Accenture research indicates that the threat is real, and that by 2020 banks in the UK could lose up to 43 percent of their payments-based revenues as a result of PSD2-driven changes. Because PSD2 mandates third-party account access via open APIs, there is a danger that banks will be disintermediated by merchants and other non-bank players, particularly in the ecommerce space. In extreme scenarios, banks may simply become dumb stores of value at either end of a payments value chain that they have little role in.
European banks must also recognize the huge range of opportunities associated with PSD2. Rather than treat it like a technical compliance task, a strategic approach to PSD2 could create new revenue streams and actually create barriers to disruption. For example, banks can create their own account information services with a view to establishing themselves as the 'one-stop' aggregator for multi-banked customers. In this model inter-bank credit transfers can be used to create a web of transactions across accounts at a variety of financial institutions, with the primary relationship bank as the orchestrator.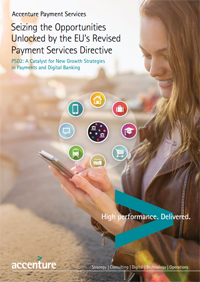 Banks can also opt to disappear behind the curtain and act as a utility, managing underlying customer accounts, processing payment transactions, and providing liquidity and credit services to third-parties that own the customer experience. If PSD2 creates a payments gold rush, then some banks will make money by selling digital shovels. In this model banks could offer a whole host of their existing internal processes to third parties via APIs (think payment authentication, identity verification or customer analytics) to create new fee-generating services.
Another option is to attempt to retain control of the customer relationship while broadening the bank's product offering. For example, allowing new third-party products and services to be sold through a bank's online portal and giving those providers access to underlying account data to customize the offerings.
There is no doubt that PSD2 and other Open Banking initiatives will disrupt the traditional vertically integrated banking model. So the challenge for European banks is to recognize both the threat and the opportunity in these changes. The European payments market will become more fluid and more competitive and the poorly prepared will only see it as an existential threat to their consumer payments business. However, for European banks there is still time to heed the words of Paul Romer, now Chief Economist at the World Bank, and recognize that "a crisis is a terrible thing to waste." So European banks should be ready to take full advantage of the opportunities this regulatory change will create.
I invite you to read our full report: Seizing the Opportunities Unlocked by the EU's Revised Payment Services Directive.