Auto finance companies can expect the pandemic to impact four key areas as they work to address short-term needs and prepare for the future.
It's becoming clear that COVID-19 will have long-term impacts on our lives and the economy. Most auto finance companies are working to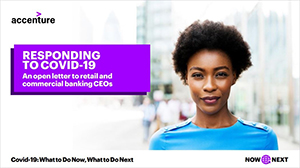 address immediate challenges: protecting employees and serving customers. While they face an increase in non-performing loans and a decrease in revenue, this is an opportunity to demonstrate commitment to supporting customers through this crisis.
The pandemic may accelerate many trends that were already reshaping the auto industry, such as the shift in mobility. It's possible that there will be no return to "business as usual". In this rapidly changing climate, auto financiers should focus on short-term impacts in the following four key areas of retail and commercial banking while laying the foundation for longer-term business model changes.
Credit management
Non-performing loans will surge as consumers and businesses are unable to make loan/lease payments. There will also be an increased demand for new credit.
Following the 2008 financial crisis, many auto lenders offered loan modification programs, such as zero-percent interest. Now, modification programs may need to be expanded and timelines shortened. Additionally, lenders should build capacity to address delinquent and defaulting loans, training staff to handle increasing volumes with empathy. Some lenders may turn to intelligent automation to help boost productivity. However, authentic human engagement that builds trust should be a priority. Borrowers, drivers and dealers will remember how they were treated during this time.
Where supply chains are tightly integrated, the impact may be amplified or passed on to the weakest link in the chain. Therefore, it may be necessary to repurpose credit-research capacity to analyze network impacts or commission analytics-as-as-service providers to map and identify potential points of failure (or opportunity). Extending trade credit to dealers may be an effective way of injecting capital into the system, but financiers must consider excess vehicle inventory.
As demand for new credit rises, a data-driven approach to new credit extension will be critical. Auto lenders will need to support customers with smart lending options. Being agile will be a differentiator, as will offering digital lending services.
Revenue compression
US auto sales are expected to drop 15 percent this year. As a result, some auto dealers will close forever and the floor plan lending market will, as a result, contract. Consumer auto finance also faces a downturn. We expect the deferment bubble to last 180 days, pending the opening of the economy. Most predictions suggest that lost jobs will be regained quickly, thus stemming the tide of deferment requests. But depleted personal finances will mean that zero down, 0% and other incentives will be needed through to the end of 2020.
Customer service and advice provision
Lessees and borrowers will drive a surge in demand for advice for both short-term cash management and long-term financial planning.
While consumers follow social-distancing and stay-at-home instructions, many will want to manage their finances digitally. Now is the time to educate and support customers who are able to interact remotely. Some may need help with online banking processes like checking a balance or confirming a payment. Online assistance channels can also help customers navigate unfamiliar features.
Unfortunately, criminals are already working to target vulnerable customers with scams, so financiers must ramp up their cybersecurity and anti-fraud teams as they expand digital access.
Operating model adjustments, cost control & innovation
Lenders are reviewing and prioritizing expenditures to find what can be redirected to initiatives with short-term impact, such as building a loan-modification workflow for call centers. It's also time to think about operating models. While companies need to act quickly, it's important to resist the natural impulse to only think short-term. There's much to be gained by tackling immediate issues with one eye on the future.
Automotive OEMs have already learned hard lessons about location strategy and supply chain resilience in the face of this pandemic. Auto lenders will face similar lessons. However, there are still opportunities for lenders that prioritize their customers, control costs and innovate their business models.
Learn more about the implications of COVID-19 for the auto finance sector in our report: Responding to COVID-19: An open letter to retail and commercial banking CEOs.