An ability to be quick on the feet—responsive, fluid, flexible—is, for the integrated finance and risk function, a cornerstone in its ability to support a bank on its Everyday Bank journey. In my previous posts we've talked about reputation management and disbanding silos, but being a dynamic responder is crucial in a marketplace shaped by technology and social media.
If an Everyday Bank vision evolves around building an ecosystem around customers—one that incorporates intelligence from every transaction to personalize and tailor the experience—the ability to capture information and act on it rapidly is critical.
When we talk about a dynamic responder, we're looking at two things:
Dynamic Credit Risk Management
Credit risk management is, for many banks, the key to keeping profitable in today's marketplace. Mastering this equips banks to offer the right customers the right price for the right products. Our Remaking Finance and Risk for the Everyday Bank report found finance and risk officers citing portfolio and data management capabilities as critical to credit risk management; but only 50 percent of respondents say they have the technology infrastructure to fluidly manage credit risk.
We believe CFOs and CROs can take these four steps to improve credit risk management:
Tap analytics to build robust credit risk models
Convert risk models into specific implementation tools
Adapt validation processes to boost timeliness and selectiveness
Conduct operations with customized communication protocols
Managed Risk Culture
Building a proactive, response-ready risk culture can help prepare banks to tackle current and future regulations with relative ease. Not building such a culture can contribute to misconduct, fostering mistrust of the banking industry and, thus, increased regulations.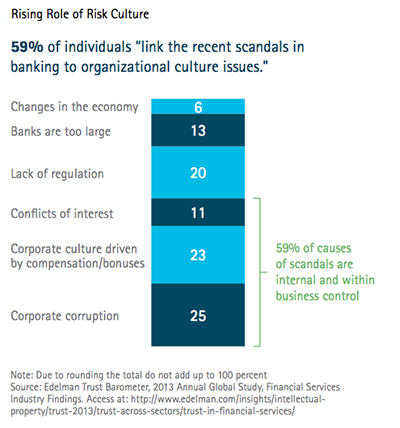 I'm not saying this will be easy. Even the Federal Reserve thinks bad behavior at banks is more prevalent—and problematic—than "a few bad apples."
Getting it right is about finding the right talent and fostering the right beliefs. Specifically, the integrated finance and risk function should:
Identify key influencers and culture champions
Build a culture that features positive examples of "how we do things"
Help the bank's management keep track of what's happening in the organization
Focusing on dynamic response brings us full circle when it comes to the Everyday Bank and the integrated finance and risk function. To propel a bank forward, finance and risk need to do some necessary housekeeping and eliminate silos. The integrated function must cover an essential base by managing reputational risk. But then the finance and risk function needs to help banks move forward by building their ability to respond dynamically to an ever-changing market—both today and tomorrow. See our report for more.