---
In the financial services industry, growth has always been a key for success. "Get big or get out" has been the mantra for decades. However, sometimes it pays to be small.
Insights from the Accenture Strategy 2016 UK University Graduate Employment Study revealed an interesting trend among millennials joining the workforce: Grads are less interested in working for large corporate organizations and less driven by money.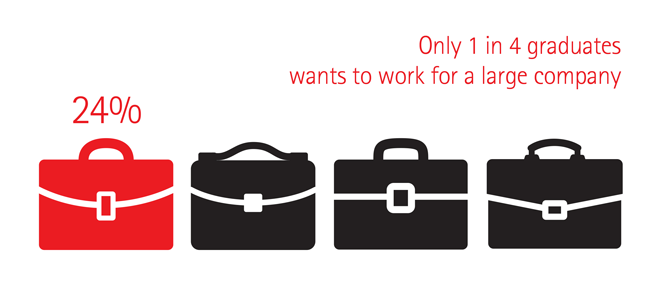 Why? Perhaps they feel they will be lost in the maze of a large corporation that is perceived as not being attentive to an employee's individual needs and expectations. By contrast, 40 percent of 2016 graduates look to work for a small start-up or a medium-sized business, where the employee experience is likely to be more personalized.
As millennials look for careers in financial services, trust and purpose are essential points. Banking used to be a trusted industry, but this has suffered since the financial crisis. Insurance is not seen as an interesting industry to work in by many graduates. This new generation is looking for jobs with greater social purpose, but FS firms struggle to convey their important role in economies and trade. The key to attracting millennials seems to be creating a desirable work environment that is social, inclusive, diverse, and flexible.
Provide a small-team feel
Established financial services organizations need to give new employees the sense that they are part of a small team, not an impersonal conglomerate, or risk losing the best and brightest to fintechs and insurtechs. Larger FS firms can accomplish this through personal attention to entry-level workers and creating a sense of ownership and empowerment among new hires.
Variety and autonomy of work
Consider the structure of your graduate programs, as well as the general operating model of your organization to ensure right positioning and level of responsibility provided to grads. Line managers need to lead graduates and to allow graduates to self-direct their rotations and end of program job choice (more than being 'spoon-fed' the next job). This comes with its own interesting challenges: Managers who may not be ready to do this or graduates who choose to abuse this. It's up to leaders in FS to put the controls and support in place to handle these possible scenarios.
Create and support diversity
Our survey also found 50 percent of new grads would trade salary to work for a company committed to corporate social responsibility. In order to retain the top talent, leaders and managers at all levels should connect employees' work interests to the purpose of their FS organizations. Millennials clearly want a "vision and mission' in their careers. It's important for employers to leverage their approach to CSR and show how they have a positive impact on society by offering opportunities for grads to get involved in various CSR activities.
Social mobility is of increasing focus for millennials. Consider your Inclusion and Diversity strategy. How can employers in financial services widen their talent profile and leverage diversity activities as a differentiator in the market? It's essential to have a broad and diverse range of target universities; and to pick candidates based on various data points including gender, ethnicity, socio-economic balance, university rankings, previous hires/alumni etc.
There are new tools emerging to assist in validating the assessment of candidate socio-economic background, i.e., RARE, and many firms are increasingly linking recruitment and CSR activities to ensure their thinking and outreach is as 'joined up' as possible, i.e., providing opportunities for work experience for students from less-advantaged backgrounds.
Work hard, play hard
New graduates also expect an engaging, even fun, culture. Two-thirds of new graduates (64 percent) would trade a higher salary for a positive social atmosphere. FS firms need to provide volunteering opportunities both as a means of helping the community and giving employees varied, meaningful work experiences that can create cohesion and commitment. More than half also want their employer to provide travel opportunities.
By providing a small-team culture that fosters diversity and fun, financial services organizations can tap into the passion and knowledge the graduates bring and make them want to stay.
Special thanks to Payal Vasudeva and Diana Barea for their work on the 2016 UK University Graduate Employment Study. To learn more, register to download the report: Great expectations: Redesigning the employee experience for the workforce of the future.