Les CMOs doivent faire évoluer leur rôle et devenir des « CMOs Collaborateurs » afin de stimuler la croissance de leur entreprise.
Co-écrit avec Sophie-Pascale Videau
C'est le message principal délivré par la récente étude Forrester "Rethink the Role of the CMO » réalisée à la demande d'Accenture.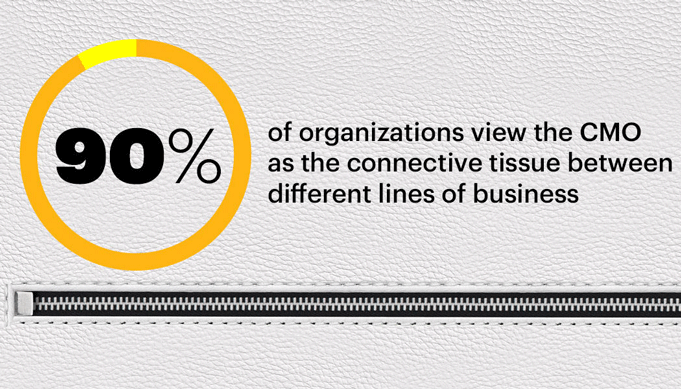 Les directeurs marketing sont perçus comme le pont qui doit relier les différentes entités d'un groupe par 90% des entreprises.
Si toutes les entreprises reconnaissent que la clé de leur croissance réside désormais dans leur capacité à concevoir et délivrer une expérience client (CX) optimale, elles sont malheureusement nombreuses à y échouer par manque d'organisation de la collaboration interne.
De tous les cadres de la C-Suite, la position de CMO semble être la plus appropriée pour assumer ce type de responsabilités.
Près de neuf personnes interrogées sur dix (88%) ont déclaré que leurs attributions en tant que CMO avaient changé au cours des deux dernières années et qu'elles pensaient que leurs responsabilités allaient encore évoluer au cours des 24 prochains mois.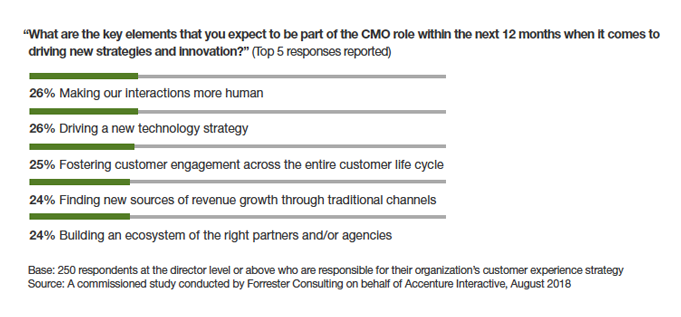 Et plus de la moitié (52%) des organisations déclarent que le rôle de CMO exige déjà de mettre en place une forte collaboration entre équipe interne et partenaires externes.
Les " CMO Collaborateurs " désignent donc les directeurs marketing qui encouragent l'ensemble des équipes à travailler en synergie au sein de l'entreprise, favorisant une nouvelle culture de collaboration entre les métiers et harmonisant la vision de la marque et la stratégie en termes d'expérience client (CX) et échangent régulièrement avec leur Comex.
Le rapport de Forrester suggère que les « CMO collaborateurs » doivent se concentrer davantage sur leurs clients que sur la création de campagnes marketing. Ils doivent devenir les porte-voix du client auprès du reste de la C-Suite et portent la responsabilité de définir et d'orchestrer le rôle de chaque fonction interne dans la gestion de la satisfaction client.
Dans l'étude, les répondants ont été classés selon le niveau de collaboration qu'ils portent au sein de leur entreprise et ainsi 95% des leaders de la collaboration pensent que leur CX dépasse déjà celle de leurs concurrents, contre 68% des spécialistes du marketing traditionnels.
Parmi les leaders de la collaboration, 81% déclarent entretenir une relation empathique avec les consommateurs, basée sur une exploitation systématique des données clients, contre 53% des spécialistes du marketing traditionnels, et 96% des CMO collaborateurs pensent que leur organisation répond aux attentes de leurs clients, contre 77% des spécialistes du marketing traditionnel.
Je reprendrais donc à mon nom en guise de conclusion, le mot de Glen Hartman, responsable d'Accenture Interactive pour l'Amérique du Nord à tous les directeurs marketing:
"Don't become an expert in a different discipline; become an expert in surrounding yourself with dedicated experts. A strong, multi-skilled team is agile in process and innovation adoption."
Accéder au rapport dans son intégralité, ici.
A bientôt pour un prochain post sur l'influence de l'intelligence artificielle sur l'évolution des pratiques marketing.