In my last post, I talked about how the pandemic has pushed banks' digital transformation efforts to historic heights, according to our latest report, "Driving Value and Values During COVID-19."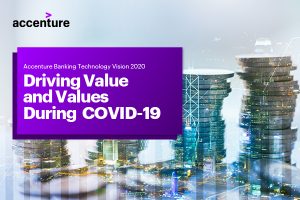 Our report also identified four key technology trends shaping the post-COVID future. Today, let's take a closer look at those and how they can help banks outmaneuver uncertainty in these unprecedented times:
1. The I in experience: Helping people choose their own adventure.
Now that COVID-19 has fundamentally transformed the role digital experiences play in people's lives, banks will need newer, more agile engagement strategies. Of the 670 banking executives worldwide that Accenture surveyed for the Technology Vision report, 86 percent said customer input or influence on the personalization of the user experience is important.
2. AI and me: Reimagining the business where AI and humans cooperate.
Many banks already have successfully adopted artificial intelligence (AI) tools and practices that speed up the automation of basic tasks. But banks should not limit AI's impact to making processes and functions run more efficiently. By finding more collaborative use cases for AI, and building capabilities for AI and people to work together seamlessly, banks can enable and enhance the best qualities of both. Our Tech Vision 2020 report found that 29 percent of banking executives are already adopting (or planning to adopt within a year) AI-based systems that are simultaneously collaborative, interactive and explainable.
3. Post-COVID CX: Creating a connected customer experience.
The COVID-19 pandemic has caused banks to create compelling experiences that span all the touch points in the customer journey. As they rush to update mobile apps, websites and other channels to expand functionality, they must ensure the experience remains consistent, empathetic and relevant—and can evolve in step with customers' constantly changing needs. That evolution is indeed welcomed by customers—71 percent of the banking executives we surveyed agreed that their customers don't mind software updates to their organization's connected products and services.
4. Innovation DNA: Designing engines for perpetual innovation.
As the world changes rapidly, yesterday's expectations for innovation are out the window. Many of the reasons banks might have played it safe—failing to see the demand for change or being risk-averse—have become irrelevant. Sixty-one percent of our survey respondents agreed that the rapid advancement in new technologies and scientific innovations was poised to disrupt the banking industry. Leaders will be the ones that create new innovation strategies and form new partnerships to pivot quickly and continuously during this crisis.
Paying particular attention to these key technology trends will help banks navigate the complex journey through the pandemic.
In my next post, I will share insights from our Technology Vision on how to build future-ready banking operations.
To learn more, read our full report: "Driving Value and Values During COVID-19."
Disclaimer:

This document makes descriptive reference to trademarks that may be owned by others. The use of such trademarks herein is not an assertion of ownership of such trademarks by Accenture and is not intended to represent or imply the existence of an association between Accenture and the lawful owners of such trademarks.