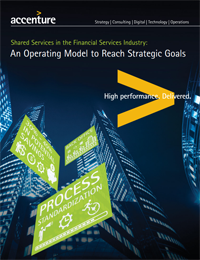 Financial enterprises have not always been early adopters when it comes to shared services approaches, using offshoring or outsourcing to support back- and middle-office functions. And, as regulations and capital outlays increase, banks and financial firms are increasingly more inclined to explore their shared services options.
Accenture's paper, Shared Services in the Financial Services Industry, explores how a shared services approach can bring more than just cost savings. I'd like to talk here about what a shared services model can do for a financial firm—because the opportunities are plentiful.
You say your goal is quality? Shared services can play a key role. Looking to improve risk management? Again, shared services can play a key role. Here are some of the ways banks and financial firms can gain from employing an effective shared services model:
Agility: The business can shorten time to market for new products and services and integration of new acquisitions if it leverages a shared services model that delivers standardized, scalable and specialized solutions at speed.
Service quality: With shared services, functions can be improved, because a shared services model opens the door to specific talent and sophisticated processes, both of which can help establish domain "specialization."
Capital efficiency: A shared services model helps firms establish an ability to release capital through efficient and effective sourcing.
Clearly, a shared services model offers the potential for a wide variety of gains. But is it as easy as outsourcing a function and waiting for it to perform magic? In fact, shared services can be implemented in a variety of ways. In my next post, we'll take a look at some of the trends and variations we've seen.