New banking regulations keep coming down the pike—but the pace of change has varied from region to region around the globe. Different regions have honed in on different trouble spots. In some cases, regions can help one another prepare for change.
Faced with ongoing conduct risk and regulation challenges, banks in the United States are preparing to respond not just to the corporate governance issues facing them, but to address customer-facing issues linked with ethics and corporate conduct. Essentially, banks want to be sure their conduct risk measures emphasize the fair treatment of customers.
This approach makes a lot of sense. Why focus only on the logistics of revamping conduct policies, processes and controls when, with a shift in emphasis, you can also enhance customer loyalty?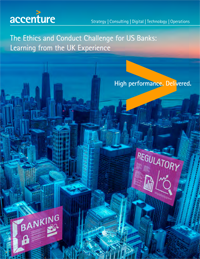 Luckily for US banks, others have made this journey first. In recent years, as outlined in our report on ethics and conduct risk, banks in the United Kingdom have worked to define bank conduct and invent new approaches to conduct risk and regulation. They have taken a lead in shifting the emphasis to customer-centricity and cultural change. They have learned, first hand, that the right approach avoids legal and regulatory risk while also delivering value for customers and for shareholders.
In the United Kingdom, regulators (and banks) have focused heavily on five areas: cultural change, personal accountability, misselling, market conduct, and information and social media. US regulators are beginning to prioritize these same areas, seeing a path forward in their approach to conduct risk management.
US regulators can also emulate their UK counterparts by knowing the right "ingredients" for an effective approach. Involving senior leadership is one such ingredient. Changing the operating model is another. And programs that drive a strong culture come into play as well.
US financial firms can learn a lot by observing their peers across the pond. Our Conduct and Culture blog provides more insights and delves deeper into what firms can do to meet their conduct requirements.