Other parts of this series:
---
Summary: Accenture looked at more than 20 ways that employers aim to create changes in workforce behavior. In this post, Andy Young looks at five sweet spot practices that achieve the greatest ROI.
In my last blog post, I looked at findings from Accenture's Care To Do Better research. Key finding: Organizations that adopt a high human touch can unlock 64 percent of their people's potential and boost business performance.
In other words, you need to focus on these six components:
Emotional and mental health
Physical health
Relational wellbeing
Purpose
Financial stability
Employability
When an organization focuses on these factors, they're committing to make their people Net Better Off. Like the Net Promoter Score reveals a customer's perception of your brand, our Net Better Off model measures and makes visible what motivates people in the workplace. And by investing in Net Better Off, organizations can achieve better business performance and gain up to 5 percent revenue growth.
Caring for people is everyone's responsibility
The banking workforce expects a lot more from employers now, but the vast majority of organizations haven't gotten the memo yet. Many organizations are operating under the assumption that people concerns—like these six components of Net Better Off—are an HR responsibility.
That's no longer true.
We found that 73 percent of the banking workforce said they strongly believe their employer is responsible for helping them achieve Net Better Off. But only 30 percent of the banking C-suite agrees.
Our Care To Do Better research found a disconnect between what the banking workforce expects their employer to do for them and what the C-suite believes it's responsible for: 73 percent and 30 percent, respectively. That's a greater disconnect than we found in our cross-industry sample (75 percent and 50 percent, respectively).
Think about finance: we expect everyone in an organization to be financially responsible, not just the CFO or the finance department. Similarly, when it comes to taking care of people, it falls to everyone in the organization (and as I'll discuss later in this series, taking care of people is a key imperative for the C-suite and the Board).
Five sweet spot practices to leave your people Net Better Off
Many leaders find it difficult to identify the specific practices that unlock the best that their people can give. Just 66 percent of the banking workforce in non-manager positions believe that their potential is being fully realized at work. Given that for many banks, half their operating costs are people-related—and the growth and innovation in banks is sparked by their people—that could be billions of dollars left on the table because we're neglecting human potential.
So where should you start?
We looked at more than 20 employer practices that aimed at achieving changes in workforce behavior. Out of that, we found the ones that achieve the greatest ROI: the five sweet spot practices.
Enable continuous learning
There are two pieces to continuous learning. First, these sweet spot leaders identify and quickly deliver what people need right now, in the flow of work, to be successful in their day-to-day work. Second, they anticipate the emerging skills the company will need in the future, and train individuals today. Data analysis is a critical capability, and as I explained earlier in this blog series, Accenture is proud to work with SkyHive to use machine and deep learning to proactively identify and address skills gaps. Learn how leaders are fostering a culture of lifelong learning.
Digital fluency has become an imperative for survival, both for individuals and businesses. The 2020 Accenture Global Digital Fluency Study found that 62 percent of banking respondents say their senior leaders prioritize investment in targeted digital education and training, and that 65 percent have enough support and guidance to prepare themselves for the future of work.
The pandemic has also emphasized the importance of continuous learning. For example, as a result of COVID-19, 47 percent of the banking workforce has acquired new skills relevant to their current career, 43 percent outside of their current career, and 43 percent believe their current role and responsibilities will change.
Continuous learning in action: At a large global bank, we've been working to develop an internal marketplace for skills and careers. This includes creating reskilling pathways for critical future roles, helping people build true role readiness and providing the business with a viable alternative to external hiring—especially for skill sets that are scarce in the labor market.
Banking employees who experience continuous learning at scale are more than twice as likely to recommend their employer (91 percent) than those who don't (43 percent).
Listen to what your people need at the front lines
Leaders in this sweet spot empower front-line workers with real-time data. Having an open channel enables a continuous feedback loop. This has several benefits: it helps companies flag trends at the front line, and it empowers people closest to the work to make informed decisions within reasonable limits. A two-way channel connects employers and workers and helps them work collaboratively to turn data into insights, focus on creating customer value and build trust. For example, the majority of the banking workforce is comfortable engaging in shared decision-making with peers (73 percent) and superiors (72 percent).
This sweet spot practice also means being responsive to people's needs. It's encouraging to see that 69 percent of banking workers say their team leader provides the necessary resources, technology and funding, and 71 percent say their company is quick and efficient to resolve issues with work tools and technology.
Listening in action: At the start of the pandemic, we helped a large investment management firm build a platform and app for wellbeing, employee health and listening. This has provided practical guidance, as well as wider support to employees, helping them feel and see that their employer cares. And that's helped the organization manage changes through the crisis.
Front-line banking employees who are empowered in their day-to-day work are nearly twice as able to effectively adapt to change (92 percent) than those who don't (48 percent).
Use technology to enable flexible work arrangements
The shift to remote teams has highlighted the need for flexible work arrangements. Leaders in this sweet spot select and apply technologies that allow them to reimagine work and work processes. Increasingly, this means enabling human-machine collaboration to provide data and insights that drive innovation and creativity. Leaders are also transparent about the purpose of the technologies they're investing in—which helps set expectations and build trust. See how teams can be agile while working from home.
Our research found that in general, banks are doing a good job in this area. For example, banking employees say their company was well equipped to transition people to remote work (75 percent), provides support to use technology to enable effective work (76 percent), supports knowledge sharing through technology platforms (66 percent) and provides training for remote working tools (67 percent).
Flexibility in action: At a large European bank, we implemented new a digital workplace, supporting better collaboration and virtual teaming. We focused on two areas in particular: designing the digital workplace around and into how people work, and building in effective adoption. Consequently, we've made people's remote "working lives" easier and more fulfilling, rather than just implementing another technology into their busy working day.
Banking employees who experience tech-enabled flexible work are more than twice as likely to feel fulfilled in their work (87 percent) as those who don't (37 percent).
Champion workforce wellbeing and equality
Safety and relational needs are more important than ever. In place of ad hoc, standalone offerings, leaders in this sweet spot are building holistic, well-funded programs focusing on mental and physical health. To improve the chance that people will participate—and even champion—these products, leaders are co-creating programs with their workforce. By continually engaging with people and monitoring what's working, they can adapt programming as people's needs change.
Again, our research found encouraging results in this area. Banking workers say they feel cared for as a person by leaders and managers (69 percent), that they are recognized for work well done (73 percent) and that the company has set up the right cultural norms to help them integrate their personal and professional lives (66 percent).
Wellbeing and equality in action: At a large financial institution, we've been helping them work on their culture, leadership, wellbeing and inclusion agendas throughout the crisis, increasing the level of board-level transparency and action. This work is critical to creating belonging and improved working lives, as well as enhancing the organization's performance and competitiveness.
Banking employees who experience holistic workforce and equality programs put significantly more effort into their work (85 percent) than those who don't (40 percent).
Set and share people metrics
Diversity and inclusion aren't a set of principles on paper; they're actions that your organization takes every day. Leaders in this sweet spot hold themselves accountable for diversity and equality through transparent metrics that are published externally. They also generally tap external experts to help them create best-in-class diversity initiatives.
In our research, we found that company communications are clear and transparent (72 percent), provides sufficient information about matters that affect people and their work (72 percent) and communicate with empathy (68 percent).
Metrics in action: At a large bank, we used a blend of data-led and human-experience insights to move both the minds and hearts of top leadership, challenge misconceptions and create a movement for change on inclusion, diversity and equality. This helped the bank understand both root causes and specific actions, but also the wider leadership, talent and cultural shift needed to create a lasting change.
Banking employees who experience transparent, shared people metrics are twice as likely to say they have positive experiences at their employer (72 percent) than those who don't (31 percent).
Action today, action tomorrow
Clearly there are ample ways to take care of your people, and we've found the ones that make the biggest difference. These five sweet spot practices provide a cheat sheet for you to achieve the biggest impact for your efforts. Notably, when organizations adopt these practices, they see positive results from the vast majority of their workforce. And, because a minority of organizations claim to lead in this practice, small actions now can lead to outsized returns.
I find it hugely encouraging that these five practices can create such significant results for organizations. And there's something so satisfying about the notion that taking care of your people can help them unleash their potential and propel your organization to achieve better performance—simply by having a high human touch.
That said, a word of caution. It's easy for the deep intent around lived experience and working lives to fall into HR policy and become a single-use initiative. Something as important as mental health can end up being watered down into a few people wearing a lanyard (which might be part of the right overall response but is unlikely to make for lasting change).
It's key to understand that you can make huge progress quickly. Right off the bat, there are some things that have to change, like biased choices within recruitment or promotion. You can achieve quick wins and you also have to know that the full job will take years. It means making workforce strategy a business imperative, not just an HR initiative.
In fact, this ability to thread people concerns and business concerns is a hallmark of what we call a Modern HR mindset. This mindset is a new way of thinking about workforce strategy, and it's key to unlocking people's performance and the ensuing business results. Join me next week as we dig into the details.
To learn more about investing in your people to create the greatest impact, contact me here or on Twitter at @andyyoungACN.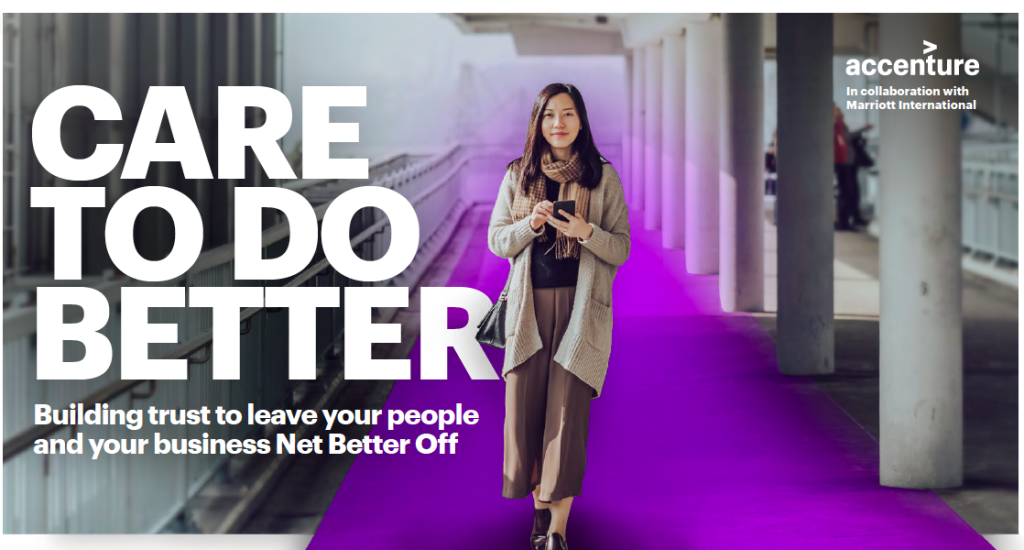 Many thanks to Ellyn Shook, David Rodriguez, Ph.D. and Eva Sage-Gavin for your leadership in this area.
Disclaimer: This content is provided for general information purposes and is not intended to be used in place of consultation with our professional advisors. Copyright© 2022 Accenture. All rights reserved. Accenture and its logo are registered trademarks of Accenture.