Other parts of this series:
---
It's no secret that many retail banks are looking for a new path to sustainable growth. Shifting consumer expectations, a stubborn trust gap, and growing competition from would-be disruptors like Facebook are pushing industry incumbents to experiment with the new, whether they want to or not. 
One of the most popular areas of innovation is customer-facing ecosystems. A new industry survey from Accenture Research of executives at 120 banks around the world found that nearly 9 in 10 believe that ecosystems are going to change the customer relationship. Roughly the same portion of executives think that ecosystem-related initiatives will be the main driver of value creation in the industry.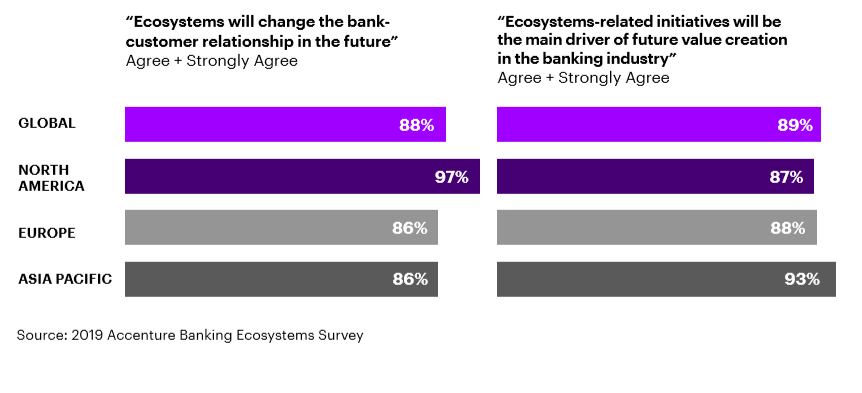 The potential of a customer-facing ecosystem to create new value is considerable. Ecosystems can be flexible and far-reaching, giving banks new opportunities to build trust with customers and support them at key moments in their lives.  
Yet unlocking that achievement potential will be a challenge—in part because the flexibility of ecosystems means there are many appealing ecosystem plays to pursue. Let's go over five of the most promising models for banks in ecosystems.
1. Life moments orchestrator
This model focuses on creating an ecosystem (or ecosystems) built around specific "moments that matter" in the lives of customers. These are usually major moments of change in person's life, like buying a first home or becoming a parent. The idea for banks is to lead a network of partners in crafting an exceptional experience for customers during these high-impact opportunities when customer loyalties can shift.  
Some banks are already pursuing this play, most often by allowing partners access to the bank's customer network in exchange for fees. For example, the American bank Capital One has built a platform that connects customers to automobile dealers and allows customers to pre-qualify for lending. Chase, another American bank, uses a partnership with Truecar to allow customers to buy cars directly through Chase's website.
2. Marketplace orchestrator
This model takes the "moments that matter" focus on the previous one and applies it in a different direction. Marketplace orchestrators use white-labelling or co-branding to sell non-financial products to customers. 
For instance, OCBC in Singapore has built a digital homebuying platform that does more than connect customers with information about properties. Customers can also buy home insurance, look at home valuations, and see home renovation design ideas. 
OCBC has developed another "marketplace orchestrator" play that provides a one-stop online portal for parents looking for everyday essentials. Customers can shop for medical services, nursing and feeding products, and open bank accounts for their children.   
3. Third-party ecosystem participant
Banks should not discount the benefits of joining an attractive ecosystem because it was built by someone else. While being a participant in another organization's system will probably entail some loss of control, the pros can far outweigh the cons. The right ecosystem can be a tremendous opportunity to offer banking products to new customers.  
For example, the Australian bank ANZ has partnered with Honcho, an online platform that helps users set up and grow small businesses. Customers that apply for an ANZ business account through Honcho get a waiver on their monthly service fee. 
4. Open banking platform
Here, banks make their offerings available in new places through open application programming interfaces (APIs). Open APIs let a wide range of partners integrate a bank's products and services into their own platforms.  
This play is ambitious (and may be a bit daunting), but some global leaders are forging ahead. The Spanish bank BBVA, for instance, has launched API Market, which uses open APIs to allow third parties to offer BBVA products and services through their own platforms.
5. Referral platform
This play focuses on customers who don't fit a bank's targets. For instance, many large banks reject a significant percentage of loan applications from small businesses. A bank pursuing this play might direct such applicants to dedicated online financing platform or some other suitable third party.  
This is a popular model in the UK, where some leading banks (including Lloyds, Santander, HSBC and Barclays) provide rejected small business applicants with referrals to designated online credit brokers.  
These are five of the most promising and popular ecosystem plays for banks, but this list is far from exhaustive. If you'd like to continue the conversation about the potential of ecosystems in banking, I'd love to hear from you. I can be reached using the contact information below.  
My next blog post will look at three key ways ecosystems generate value for banks. In the meantime, download our latest thinking on how banks can grow with ecosystem-based offerings.