---
In my previous post I described Accenture's framework, which includes the six key success factors of credit innovation that enable players to achieve performances comparable to new digital competitors: improve data quality, reshape customer experience, streamline instant loan process, boost digital mortgages, focus on self-serve mode and become aware about ecosystem.
How can our clients in the new and ever-evolving digital area face the challenges coming from new "digital native" competitors (e.g. peer-to-peer lenders)? They should "become digital" by leveraging disruptive innovations in the lending business, establishing partnerships, or exploiting internal digital capabilities.
More and more players are actually making use of Big Data and related analytical approaches as a way to evaluate up-selling strategies and support their customers. Big Data may contain a comprehensive and overall picture of the customer, whereas analytical techniques can discover valuable insights using a combination of static and transactional data (e.g. disclosure of information on liquidity position and creditworthiness).
Today, I would like to share with you the first of these key success factors: improve data quality through leveraging Big Data and analytics.
The main features are illustrated here: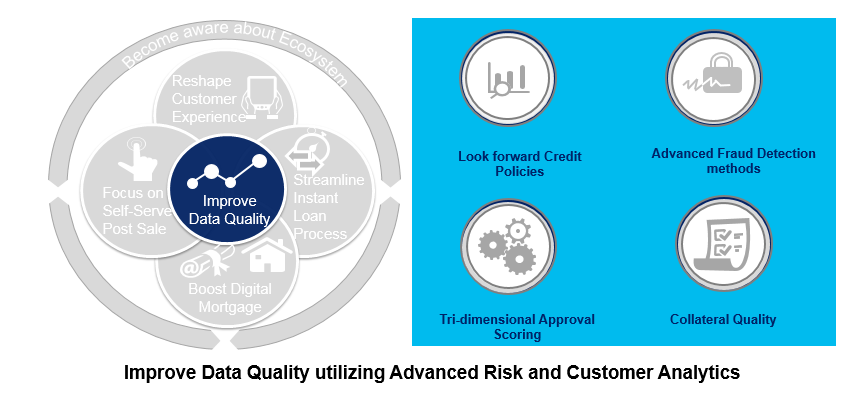 Forward-looking credit policies
An innovative combination of internal credit risk parameters (probability of default, expected loss rate, unexpected loss rate …), with external market data (industry trends, macroeconomic forecast …) and alternative data from new sources that can help reinvent the way credit portfolios are clustered to highlight potential commercial areas to be tackled.
Tri-dimensional origination scoring
Innovative credit scoring, supported by the integration of advanced mathematical methods, new information sources (e.g. social and loyalty platforms) and transactional data enabled by Big Data.
A new approach can be created to be coherent with regulations (probability of default), long-term risk mitigation (collaterals and probability of default maturity-adjusted) and potential return (pricing), to achieve an optimal balance between "approved" and "rejected", also called "optimal frontier".
Advanced fraud detection methods
Advanced fraud detection methods, enabled by the combination of statistical analysis based on KPIs, which can detect suspicious customer behaviors, with the review of the entire information usage process. The objective is to help secure the bank against internal and external fraud attacks affecting information (e.g. user, customer, IT) thus decreasing the operational risk.
Collateral quality
Definition of a structured process within the origination phase that ensures an update "in real time" of all the necessary documents and the review of the composition of the financial instruments, with the aim of reaching a lower level of risk.
Want to know more about the key factors in the digital era? Stay tuned! In my next post, I will guide you through the reshaping customer experience in credit processes.