The French philosopher Voltaire was known for his intelligence, sharp wit and provocative ideas. On his deathbed, a priest advised him to denounce Satan, to which Voltaire is said to have replied: "Now, now my good man, this is no time to be making enemies."
While few bankers are likely to view fintech startups as satanic, Voltaire's logic still applies. When the future is uncertain, why make enemies when you can make friends and keep your options open? With many banks now adopting a 'digital first' mentality, collaboration with entrepreneurs on evolving technologies like robotics, cloud computing and advanced analytics is enabling banks to accelerate their transformation programs.
From the fintech side, many of the startups that claimed they were going to disrupt the banks are now learning that incumbents have some advantages—from low funding costs to high levels of transactional trust—and are looking to partner.
This shift to collaboration represents a new phase of maturity in the fintech sector. Over the last 12 months there have been highs and lows, from SoFI's $1 billion financing round to Powa's collapse into bankruptcy in the UK to the well-documented issues at LendingClub. But one of the most notable shifts has been a move towards higher levels of collaboration rather than competition. Investments in collaborative fintech companies increased by 138 percent last year and now represent 44 percent of all fintech investment, up from only 29 percent last year, while investment into fintech companies focused on competing with incumbents only increased by 23 percent.[i] So while there is still more investment going into competitive fintech companies, there is a clear trajectory towards collaboration, particularly in North America where 60 percent of 2015 investment was in the partnership model.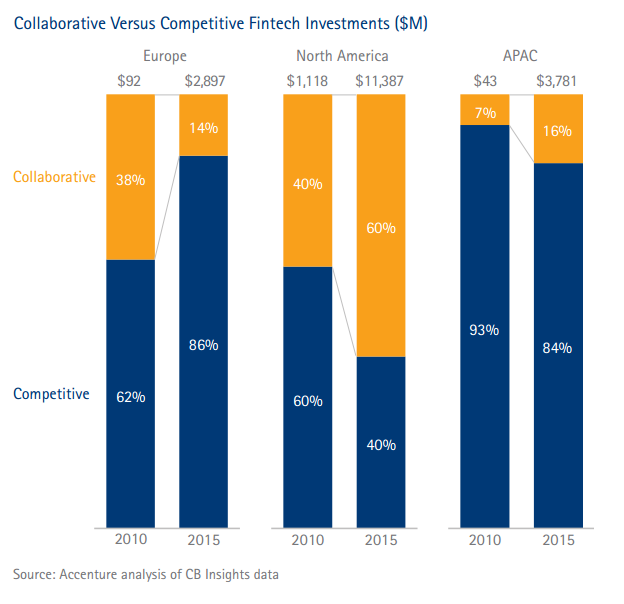 Smart incumbents are now recognizing that a 'not made here' philosophy is unlikely to serve them well in the fast-moving and diverse ecosystem of fintech innovation. Instead they are looking to triage that innovation and identify early those ideas that can be co-opted or acquired to provide a competitive edge.
Accenture is playing a role in facilitating that process through our FinTech Innovation Lab in which top banks are invited to engage with the most promising and cutting-edge financial technology, such as those showcased at this year's Sixth Annual FinTech Innovation Lab Demo Day in New York City.
Along with intentional collaboration, banks must also do more to realize the full potential upside from fintech. First, they need to find the right balance between internal and external investments. Last year, banks participated in less than 10 percent of all reported fintech deals, totaling less than $5 billion; compare that to the $50 billion banks spent on new and legacy-altering technology investment during the same period.[ii] That evidence of a 'still made here' approach could undermine banks' ability to truly be 'digital first' as the pool of the old business models remains strong.
Secondly, collaboration raises the bar for strategy. Specifically, when you have both internal and external innovation partners it can be difficult to separate out the optimization of the existing business model from the disruption of that business model. Unfortunately, at many banks different teams are often now working at cross-purposes and in doing so limiting the efficacy of limited investment spending. This is where top of the house strategic clarity and direction is required. If you have a 30 percent market share domestic business with loyal customers, becoming a platform player is unlikely to be the right choice. Whereas breaking into a new geography may offer far more freedom to take risks and try new business models.
As fintech rotates towards a new collaborative model, the challenge for incumbent banks is to have a clear strategy. It is conceptually great to foster a start-up mentality to drive innovation. However, if you plant a thousand flowers and they all bloom at once, it won't be long before you have a tangled thicket that lacks coherence and direction, and you are reaching for the weed wacker.
Read our latest reports:
[i] Source: Accenture analysis on CB Insights data
[ii] IT Spending in Banking, A Global Perspective, Celent, February 2015; Digital Disruption: How FinTech is Forcing Banking to a Tipping Point, Citi, March 2016; Accenture analysis on CB Insights data