Times are changing, and changing rapidly.  The banking industry is juggling to address significant challenges, working to identify new opportunities and facing new competitors. Amidst this change, banks and financial services firms increasingly are recognizing the importance of effective risk management – and not only with a defensive mindset.
In my previous blog post we talked about reputational risk and technology. Reputational risk is emerging as a key concern in a digital age, with financial institutions taking more notice. Consider this: Our 2011 Global Risk Management study found 44 percent of respondents were not measuring reputational risk. By 2013, 82 percent of organizations were either currently enhancing capabilities or planning enhancements in the next two years. Only 18 percent said they planned no enhancements for improving risk management capabilities around reputational and brand risks. That's a pretty dramatic two-year shift.
Social media is a big reason for the increased emphasis on reputational risk. In fact, social media was seen as the leading source of risk to a firm's reputation in our study.
Social media tools clearly can expose a bank to a wide range of risks. Dissatisfied customers and disgruntled workers alike can take to the social media airwaves and make complaints, which can become viral. There are less obvious (but substantial) risks, too, such as the potential for financial crime via social media web scams.
On the other hand, social media provides a powerful risk management tool to banks. By using computational analysis, and by mining data and text, social media channels can help bring real and rapid insights as well as identify sources of risk. Some financial institutions are beginning to use Data as a Service (Daas) to monitor social media tools and analyze the "market chatter" and potential risk to the organisation.
Social media is just one piece of this complex puzzle. As noted in my earlier blog, many other technologies also carry risk.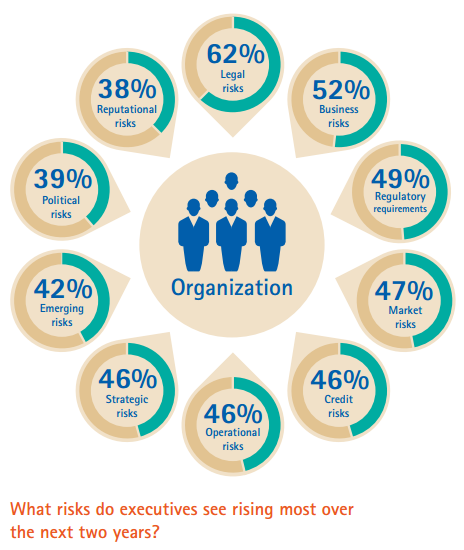 Consequently, financial institutions are taking more focused steps to address risk. Almost every organization surveyed—98 percent–said they are giving a higher priority to risk management now than they were two years ago. Four of every five risk managers regularly discuss risk issues with the company's board of directors. Financial services providers are integrating risk management into their decision making, with 92 percent saying they considered risk when forecasting and budgeting, 87 percent factoring risk into M&A and financing discussions and 84 percent taking risk into account when doing strategic planning.
These aggressive efforts don't immediately translate into the risk scenarios stabilizing, though. Among executives surveyed, some 38 percent see reputational risk as increasing over the next two years.
For banks, it is trust—and reputation—that are at the core of the customer relationship.