Volatility is the name of the game for financial services businesses and their financial executives—these days, we know volatility is a permanent condition, one that causes disruption and increased complexity in running the business. In fact, this quarter's recent spike in volatility is drying up fees for some financial institutions.
But there's good news. Accenture's High Performance Finance study suggests many finance executives are getting on top of the volatility. In fact, CFOs are more satisfied with the performance of their teams than at any time since tracking began in 2008.
For financial services businesses, the easing of volatility means finance executives are less taxed with managing change—and then managing it again. They can begin to shift their focus to growth, and we're seeing this new emphasis on growth, in varying degrees, across all sectors of financial services.
Take banking, for example. After putting growth on hold on the heels of the financial crisis, many banks are stepping toward growth agendas. Our banking report shows 41 percent of banking finance executives still prioritize cost control—but in two years that number will drop to 13 percent. And once banks feel comfortable that costs are reigned in, they will eye growth. That focus is beginning for some institutions in Europe and around the globe.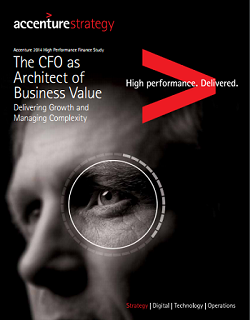 For capital markets enterprises the story is similar, according to our capital markets report. Four in five finance executives continue to make the core business the main focus of current investment—but a roughly equivalent number, 85 percent, are working over the next two years to expand into new and emerging markets in search of growth opportunities.
Insurers enjoy the best position when it comes to a growth agenda. Almost 75 percent of insurance respondents are currently focused on investing in growth-oriented activities, with that percentage expected to tick upward to 78 percent in the next few years.
The outlook for financial executives may not be rosy just yet, but it certainly is improving. For my next few posts I'll delve deeper into the findings of our High Performance Finance study. We'll look at a few key priorities for financial services businesses and their finance functions, including infrastructure and complexity, talent management and the ever-important emphasis on digital and analytics