---
Things are changing for banks. People are moving on. They are making their own financial arrangements and leaving the banks to deal with their outdated demographic models. Banks need to look at people—their current and prospective customers—with fresh eyes, understanding the way they think and what they need.
That's why Accenture and Fjord undertook research to identify customers' new financial behaviors. What we discovered were four mindsets—so strong we think they are universal—with a tremendous potential impact on how the financial services of the future should be conceived, designed, built and marketed. We want to help banks leverage human insights to target the right customer, with the right experience, in the right context.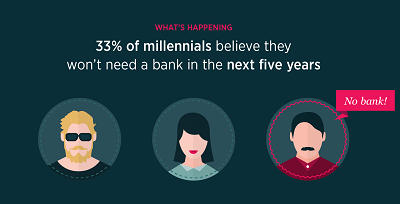 To discover the money mindsets, we asked customers three simple questions:
When do you think about money?
Where do you think about money?
How hard do you think about money?
The answers we received led us to three broad conclusions:
First, we found that traditional banking is misaligned with today's customers. Banks think about their products; people think about how they're treated. Banks think about how they can profit; people think about getting a rewarding deal. Banks think about economic value; people think about personal value.
Our second conclusion is that long-established segmentation strategies are no longer useful. Consumers' decision-making processes are messy and complicated. Focusing on simple demographics like age, marital status and income don't always reveal useful insight. To design services of the future, banks must look at how people behave and what's important to them when dealing with their money.
Third, we found that it's time for fresh thinking. Consumers and their lives are evolving at such a pace that banks must make room for the new, the innovative and the non-traditional. They need to understand the differences in people's approach to saving and spending in a much more meaningful way than they can from just learning about their age, gender, marital status, income and other standard data points.
In this series, we will be looking at the four money mindsets—Achievers, Balancers, Experiencers and Explorers—and how they look at their own finances and at current and potential offerings from banks. As we see it, when banks understand how different personality types think about their finances, they can build services and products that become invaluable features of daily life.