Payments is buzzing at the moment. There is a huge amount of activity going on, and you can read about new innovations or payments ventures in the press nearly on a daily basis. Large "non-bank" organizations, as well as smaller start-ups, see digital payments as an opportunity to disintermediate banks from the customer relationship and capture new transactions and revenues, without the hassle of necessarily having to become a fully licensed bank.
My colleague, Kim Berg, and I have been discussing several examples that demonstrate how the Everyday Payments vision is becoming a reality. Here are just a few examples of recent market developments across the six key themes / "hot topics" in digital payments: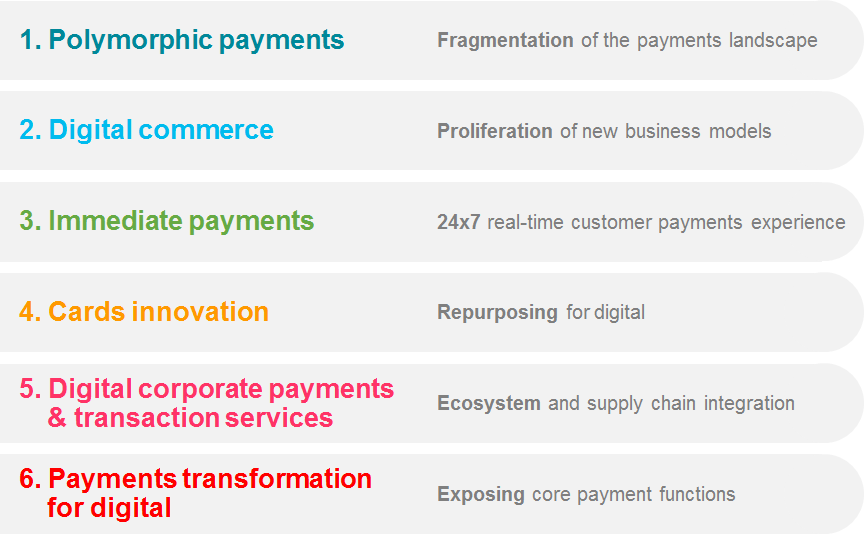 Polymorphic payments refer to the ability to perform digital transactions independent of the underlying payment method, currency or channel used, or where the value is held. This means that payment providers can support and facilitate many different types of payment methods and currencies under a single and seamless multi-channel interface. American Express just announced an interesting move in the US that will enable card holders to make payments with American Express Reward Points at point-of-sale in McDonald's. This will now be rolled out to 14,000 restaurants across the US by the end of the year. As a next step this could be extended also to retail stores, giving American Express customers more choice in how they pay for goods and services. More information on this example can be found in this article.
Digital commerce is about leveraging existing and creating new relationships with customers and businesses in the commerce ecosystem to enable new business models and revenue streams. Sixdots in Belgium is a great example of a new partnership between the largest Belgian banks and mobile operators to create an entirely new commerce ecosystem for smartphone shopping, loyalty cards and coupons. Sixdots have signed up some of the major merchants in the country and will reach over 70 percent of the population in Belgium.
Immediate payments is now becoming a hygiene factor to underpin digital propositions, but often require payments platforms and central infrastructures to be renewed in order to realise 24×7 real-time account-to-account payments. Only an estimated 35 countries around the globe have currently implemented real-time payments capabilities but Celent estimates that as many as 140 could soon have moved to real-time payment systems. In the US, last year the Fed issued a consultation paper on immediate payments, and this month The Clearing House announced a multi-year effort to build a new real-time processing platform. (additional information can be found here) In Australia, the governor of the Reserve Bank just stressed to the biggest banks in Australia that they need to keep working together to deliver their commitment to provide real-time payments to customers, or the RBA would consider regulatory intervention. (more details can be found in this news article)
Cards innovation is about repurposing and transforming card payments and processing capabilities for the digital commerce environment. For example, one key trend has been dematerialization and digitization of plastic cards. Apple Pay is the most recent example that combines digitized cards with mobile contactless capabilities, and has the power to transform how consumers make payments in-store as well as for in-app purchases from mobile devices. This introduces a new challenge for banks to encourage customers to link cards issued by them as the default payment method in Apple Pay and other digital wallets. Wells Fargo is currently running a promotion, giving customers $20 if they use Wells Fargo issued cards with Apple Pay. (for additional information, see this news article) Another trend is to add differentiated digital features around the card, to give more control to the consumer. Commonwealth Bank in Australia announced a new feature this month, which will allow customers to lock, block and limit their credit cards instantly using the CommBank app. (more details are available in this news article)
Digital corporate payments and transaction services is about using digital technologies to embed payments capabilities and transaction services deeper into supply chains and digital ecosystems. Alternative providers are also starting to break into the value chain, and last year PayPal relaunched its credit service as PayPal Credit in the US, offering loans to small business customers. In the first year PayPal provided $140m in cash advances. (read this news article for additional details) PayPal is now thinking of rolling out the proposition to the UK and Australia. (News articles from the Telegraph and Business Insider provide additional details)
Payments transformation for digital. This theme relates to the next stage of payments transformation and simplification to expose payment functions over digital channels. Banks and Payment Providers can expose services through Application Programming Interfaces (APIs) for third parties to embed in their applications. Online service providers like PayPal have been doing this for a long time, and the PSD2 requirement for third party access to information and payment accounts will also drive European banks to consider APIs. In the banking industry, BBVA pioneered this area when they opened its card payment data for the Innova Challenge Competition last year. BBVA invited developers to build new applications based on anonymous aggregate data from transactions performed with cards at BBVA point-of-sale terminals. The initiative attracted 780 developers, generated 6.7 million calls to the API in just two months and resulted in 144 apps being developed across 19 countries. Last month, BBVA recently announced they are continuing the Innova Challenge Competition this year. To read more about this, see the press release and news articles from The Finanser and Finextra on the topic.
So why does all of this matter to banks?
Payments has always been a cornerstone of a market leading banking proposition, and the transformation to the digital age now provides a great opportunity to take this legacy forward.
But the market dynamics are rapidly changing and new players are entering the market across different parts of the payments value chain. Banks are uniquely positioned to lead the way and maximize the opportunity that digital payments represent, to ultimately drive deeper customer engagement and become more central and indispensable to people's everyday lives and transactions.