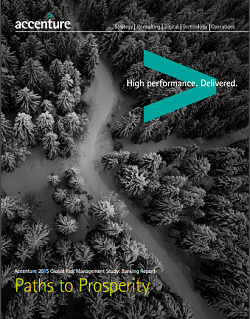 As the banking market changes, so changes the banking risk function. That means, as outlined in Accenture's 2015 Global Risk Study for Banking, that risk leaders face a new set of challenges, but also new opportunities for advancing the business.
In my mind, the essence of the challenge for banking risk leaders is balance. Chief risk officers (CROs) need to strike a balance between managing risks and promoting growth. For banks, growth means leveraging new tools in a changing market: Digital technologies bring opportunities for banks—but they also open the door to new risk. The same is true for big data. And it's especially true when it comes to social media.
Margins for banks are razor thin in today's marketplace. Banks can't afford too many missteps. They can't lose customers—though losing them is always a threat in the "switching economy" we're in. Customer centricity is absolutely critical to banks hoping to thrive in today's dynamic marketplace. But banks have been slow to innovate in this area. And for risk leaders, a customer-centric approach also brings a new set of risks.
To help banks become more customer-focused and succeed in an era of change, banking CROs face a number of balancing acts. They must balance:
The risk inherent in a customer-centric approach versus the profits to be gained for the business
Continuing to manage old risks, versus meeting new regulatory requirements, versus anticipating and preparing the bank for new risk challenges
Their traditional role of protecting the bank with a more strategic role that makes risk a powerful enabler of long-term growth
Short of becoming circus performers, CROs can get this balancing act right in a few ways. For starters, they can begin building deeper relationships with decision-makers in the business, positioning the risk function as crucial to developing business strategy. By elevating their function, risk leaders can become more influential, and do more both to protect the business and to position it for growth in a changing market.
To ensure risk is a part of decision-making, CROs should deepen their expertise and dig in to the new risk environment. When they evaluate new risks and guide the business toward giving those risks the right focus, risk leaders not only protect the business, but show how banks can safely profit from new technologies and business models. In other words, they help the bank balance between protection and growth.
See Accenture's 2015 Global Risk Study site for more resources, including the banking report and infographic. And stay tuned for my next post, focusing on operational risk and risk culture.