In my recent posts, I've discussed key elements of the digital transformation for an Everyday Bank. You need to move at the right speed, balancing disruption and core transformation. You need the right roles to govern a successful transformation. And, through it all, you need to adopt a "being digital" mindset to help evolve the culture—both internally and externally.
To be digital on the outside, your bank must use digital to improve customer engagement and the customer experience. This is rarely about bells and whistles or single features. Moreover, it's about embracing and exploiting developments in the digital space such as new customer journeys, omni-channel interactions, mobility, gamification and social media.
Being digital on the inside means leaving no stone unturned when it comes to using digital. How can the bank adapt its internal practices to deliver and stimulate the "being digital" agenda? Challenge all aspects of execution and employ digital approaches such as involving customers in process design and embedding analytics in all activities.
Digital doers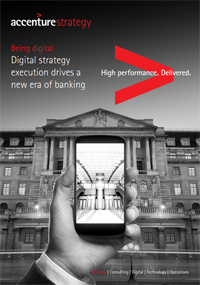 mBank in Poland is a strong example of "being digital." The bank made a decision to go digital, and they made it happen in just 14 months. Now, they are a fully digital bank with more than 200 innovative features including merchant-funded deals, "30-second" quick cash loans, person-to-person Facebook payments and a financial products store.
Successful digital transformers like mBank are replacing traditional structures with more responsive and agile ones, and attracting and retaining top digital talent. Banks need a workforce that has truly adopted the "being digital" mindset and is committed to internal transformation that removes organizational inertia and functional barriers. Drawing on a digital mindset, they can unleash digital innovations that are scalable, and that improve the customer experience.
Explore the key building blocks of digital transformation in Being digital: Digital strategy execution drives a new era of banking