Other parts of this series:
---
When your bank's customers are using the products and services you offer them, do they always navigate along the journey you expect—or want—them to take? How often do they make a wrong turn or do something you didn't anticipate? And when this happens, how quickly and easily can you get them back on track, ensuring their end-to-end experience remains positive? 
Today, these questions aren't just relevant to the IT function. They're also a matter for the operations team, who should be playing a pivotal role in addressing them. Why? Because their first-hand understanding of how, when, and why exceptions occur make them best qualified to provide the answers. 
In fact, working with IT to develop digital customer journeys that are easy, seamless and compelling is a key aspect of operations' fast evolving role. In our previous post in this series on the evolution of banking operations for the digital era, my colleague Laura O'Sullivan looked at how bringing ops and tech closer together—and closing the data/operations disconnect—can turn operations from a cost centre into a powerful source of competitive advantage. 
In this second blog, I turn the spotlight onto how operations can help design and deliver journeys that harness the full power of an end-to-end digital capability—and create banking experiences that customers will love and come back for, time and again. 
Digital customer journeys are now the norm…  
An interesting light is cast on the challenges around digital customer experiences by our latest European Banking Operations Study, conducted by Accenture and The Banker among 102 banks in 12 countries.  
Asked to estimate the proportion of their customer journeys that are now fully digital—i.e., paperless and free of manual intervention—and the scale of customer adoption, a narrow majority of respondents said most of their customer journeys are digitally-enabled but have limited adoption (see Figure 1). Another one-third reported that most journeys are digitally enabled with high customer adoption. Only one in 10 said their customer journeys are still not digitally enabled.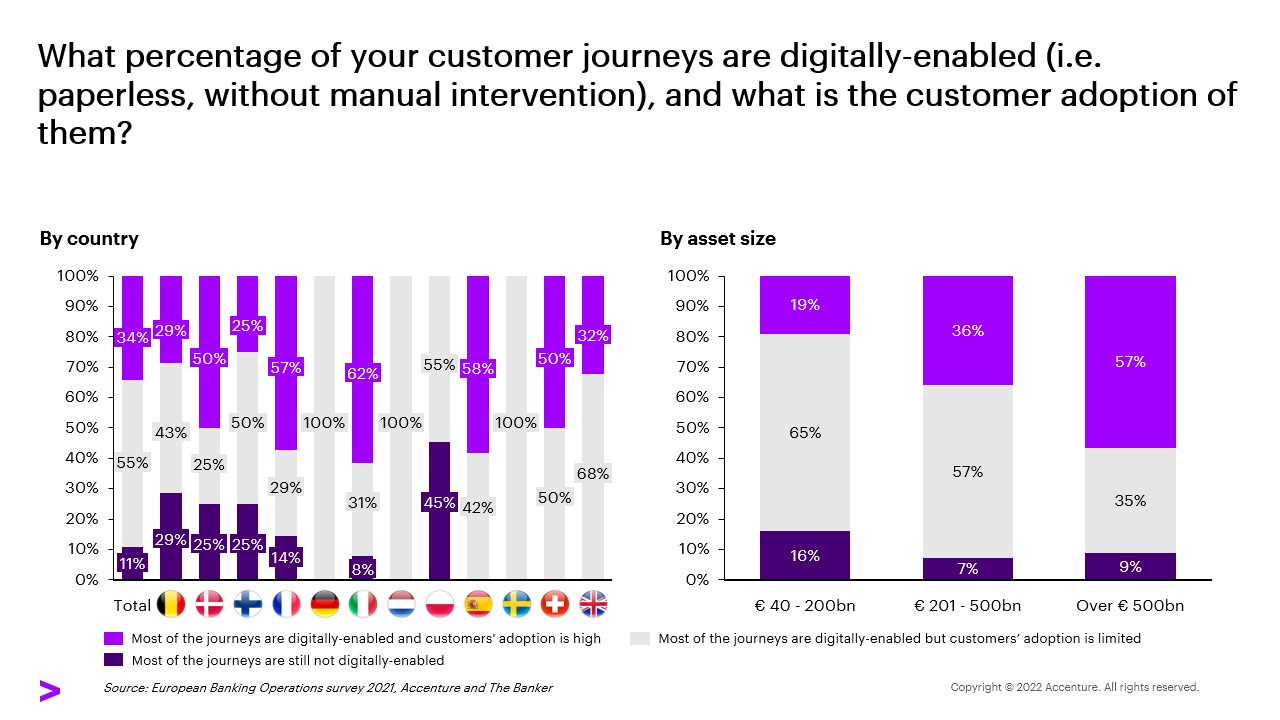 So most journeys are now digital. But just because a journey is digital, that doesn't mean customers will get a great experience from it. In fact, in many cases they don't—which may explain the relatively high rate of non-adoption. 
…but they're not always smooth  
What's the underlying problem? In my view, it comes down to an embedded optimism bias towards the "happy path." And this is something that banks can address by taking a fresh view of their offerings through the eyes of the customer. 
When most banks set out to design digital journeys for their customers, they usually have a clear idea of what they want or expect the customer to do. This might mean they assume the customer is more technologically adept than they really are and will understand what to click next. Or, for example, that customer will know about the restrictions on a particular savings product under the tax rules and will stop contributing when they hit those limits. 
Whatever the assumptions may be, they effectively map out the "happy path" for the customer. But when these underlying assumptions are wrong, the path becomes anything but happy. Customers find themselves going down dead ends, needing guidance, or even requiring refunds because they've done something they shouldn't have. The result? They get a bad experience and end up hanging around in a virtual waiting-room—and the bank runs up cost and effort sorting it all out.  
Operations can help – by bringing a customer's eye view 
In my opinion, an overreliance on the "happy path" is the biggest barrier to adoption of digital offerings by banks' customers. And the way to remove that barrier? Take a customer's eye view that anticipates and addresses the risk of a customer taking the "unhappy path."  
This is where the operations team can make a major contribution. As the people who know exactly where the exceptions fall out in every customer process, operations staff have unrivalled understanding of how customers actually behave during every digital journey.  
All of this means operations people are effectively the customer's proxy within the bank. And by taking a central role in journey development and working hand-in-hand with IT, operations can enable the bank to redesign and reimagine its journeys through the eyesIntelligent banking operating models of the customer—while avoiding "happy path" bias. The results include both better customer experiences and fewer exceptions, simultaneously increasing digital adoption by customers and reducing costs for the bank. 
What's next? 
In the next blog in this series, I'll zero in on the people aspect—looking at how operations teams can combine the right skills and technology capabilities to lead banks' digitisation agendas. So watch this space. In the meantime, if you have any thoughts on anything I've said, please get in touch. I'd love to hear from you. 
To learn more, watch episode 5 of Accenture's Tomorrow, Today video magazine, on banking operations. 
Disclaimer: This content is provided for general information purposes and is not intended to be used in place of consultation with our professional advisors. This document may refer to marks owned by third parties. All such third-party marks are the property of their respective owners. No sponsorship, endorsement or approval of this content by the owners of such marks is intended, expressed or implied. Copyright© 2022 Accenture. All rights reserved. Accenture and its logo are registered trademarks of Accenture.