The days of sustainability being a "nice to have" are over. Sustainability is now demanded by customers (and increasingly, governments), not just for the environment, but for overall societal good. With COVID-19 putting digital transformations on hyperdrive, it's important to understand that digital transformation and sustainability have a symbiotic relationship.
This twin transformation can make a company 2.5 times more likely to be among tomorrow's strongest-performing businesses. Yet, too many European companies aren't pursuing this combined strategy. Too many are looking at the immediate need for technology, while ignoring the rising need for sustainability. This is short-sighted, and is the reason why we've published The European Double Up: A Twin Strategy That Will Strengthen Competitiveness.
Europe's competitiveness in twin transformations wanes compared to APAC
Future competitiveness is one of the major reasons to embrace a twin transformation strategy. This could be especially important for Europe, as C-suite executives believe our competitiveness with China is falling.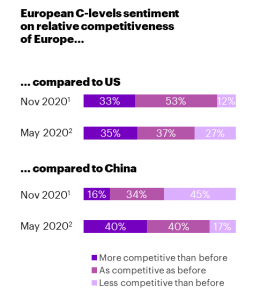 1 Accenture CEO Survey, All respondents (N=4050), North America (N=1450), Europe (N=1300), APAC (N=1300)
2 Accenture Bold Moves, July 2020
These competitiveness concerns are legitimate. We identified Sustainability Pioneers, Technology Pioneers and Twin Transformers—defined as pioneers in both sustainability and technology. (See our full report for more details on our methodology.)
With these three groups identified, we wanted to find out which region has the most Twin Transformers. Europe and North America are along the same lines with 22 and 21 percent, respectively. APAC, however, has 34% of its pioneers classified as Twin Transformers.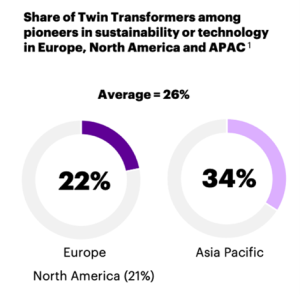 1 Accenture CEO Survey
Despite sentiment, Europe is positioned to be a leader in twin transformations
Despite this, there are reasons to believe that Europe is well positioned to take the lead in digital transformation and sustainability. To start, our twin transformations have been across more industries than those in APAC.

1 Accenture CEO Survey
Sustainability is also more top-of-mind in Europe, as shown by the sharp rise of discussions in earnings calls.
3 Accenture Research analysis of earnings calls of the largest 2,000 companies worldwide in terms of revenue
European companies are still missing the mark in extracting opportunities
At the moment, Europe is falling behind APAC in regard to twin transformations, but its industry spread and personal conviction can drive us towards being the world leader.
How can we do this? By finding the value and business opportunities in technology-driven sustainability. It's this relationship that Europe is still trying to figure out. Expanding upon the previous chart, while sustainability and technology are discussed in the earning calls of 50 percent of Europe's largest companies, only 5 percent talk about them together.
3 Accenture analysis of earnings calls of the European companies in the 2,000 largest companies worldwide
How you can forge ahead as a twin transformation leader
Europe is ready to be a trailblazer in marrying digital technology with sustainability, but we have some more work to do to get there. We have identified five concrete, targeted actions companies can take to drive this change.
Set the direction: Focus on ecosystem business models for faster and more sustainable scaling, enabled by technology.
Start the journey: Twin transformers are twice as likely to invest more than 10 percent of their annual revenue in innovation and technology. But success isn't just about spend—it's also about prioritizing sustainability by leveraging innovations, like green cloud computing.
Deepen the impact: You can't transform your company without shifting its culture. This requires ownership of sustainability initiatives across your organization, which should include non-financial KPIs to improve employee buy-in.
Achieve scale: Scalability is crucial to successfully marrying technology and sustainability. You should look at your products' entire lifecycles and engage all partners throughout your supply chain to coordinate the drive towards sustainability targets.
Sustain the transformation: In order to sustain your environmental, societal and digital transformations, you will need to ensure your employees have the right knowledge and passion to keep moving forward. This includes continuing education on the latest technologies and nurturing personal conviction across your entire organization.
Overall, I'm really excited to see where Europe goes over the next decade. It's obvious that sustainability is talked about more here than anywhere else in the world. But talk is only the first step. The real key to our success is going to be our ability to unlock business value from sustainable and technology efforts. For more details and case studies, read our full report on European twin transformations. We are all a part of this world, and we are all responsible for the health of this planet and the people living on it.
Disclaimer: This content is provided for general information purposes and is not intended to be used in place of consultation with our professional advisors. Copyright© 2022 Accenture. All rights reserved. Accenture and its logo are registered trademarks of Accenture.