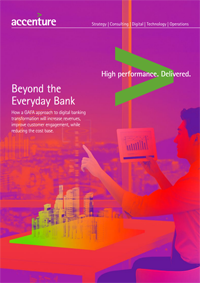 GO Digital businesses are well within the reach of banks—provided they make choices in terms of platforms and API architecture.
Banks should consider becoming C2B businesses, meeting customer "real" needs developing a portfolio of new GO Digital businesses within the framework of what we call GAFA Banking approach (meeting customer engagement standards set by Google, Apple, Facebook, Amazon).  To accomplish this, however, banks will need digital enablers that equip them to provide these new services effectively and efficiently.
Here are four key digital enablers:
Diffused digital culture.  Instead of a top-down hierarchy, banks will need diffused, digital leadership that helps evaluate emerging strategic options, manage a portfolio of options  well accepting failures when justified (AXA consider this critical in the aggressive Digital Agenda they are working on), and determining what is both possible and desirable.  Leadership should also look beyond hiring the traditional roles and establish an environment with new, positions that are important in a digital environment. Some example of these are data scientists, digital architects, community advocacy builders, storytellers, etc. can flourish.
"Liquid" customer engagement.  Banks need to revise their customer engagement and customer relationship management (CRM) approaches for greater flexibility and agility.  The goal is to move more quickly from customer insights to marketing automation to contextualized customer interactions, leveraging web analytics and Big Data.
Digital IT architecture.   IT architectures need to be liquid (highly decoupled and made of granular components, to be created and/or customized in an agile way), intelligent (embedding robotics and cognitive computing to accelerate process digitization), connected (API-driven, enabling banks to integrate easily with third parties and partners) and distributed (using distributed consensus ledgers and smart contracts to enable real-time transactions, without intermediaries and at much lower costs).  These technologies will enable banks to create new living services faster, provide new propositions, and make current products "instant" without having to change back-end systems.
End-to-end process digitization.  Most banks have focused on digitizing front-end processes.  It is now time to digitize the "invisible" processes, including back-office tasks, to provide end-to-end (E2E) digitization.  With full E2E capability across all processes, a customer might be able to begin using an account just minutes after having completed the online application.  Digitization can also affect and improve digital processes that exist or co-exist in physical environments, such as branches.  Key processes to focus include Account opening, Consumer Lending, Mortgages, etc.
Next time, I'll look more into the digital value drivers that would allow FSIs to provide different products and services while performing the roles they have chosen.