Across Asia, a revolution in payments, banking, e-commerce and services is underway. Underpinned by mobile, digital and open data, established brands and new entrants alike are redefining banking for customers who will seldom set foot in a physical branch.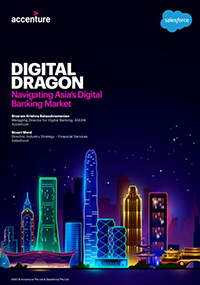 Instead, retail customers and small- and medium-sized enterprise (SME) clients will use digital ecosystems to help access an increasingly bespoke range of products, services and benefits that are no longer solely the creation of banks, but are offerings provided in cooperation with trusted third parties.
The question for prospective and existing players is how they can best position themselves for success in this digital, ecosystem-based banking market. This requires taking a number of steps. For a start, creating products and services that have a compelling customer benefit, using technologies like artificial intelligence (AI) and data analytics to better understand customers, and designing for "mobile-first" rather than considering that channel as an add-on to the branch.
Among other things, it also means focusing on the cost of customer acquisitions, lowering the cost/income ratio, and digitising to meet risk, compliance and reporting requirements.
What these steps have in common, whether for retail or for SME clients, is that they help generate digital efficiencies and vastly expand the products and services on offer. In this way, they make existing players more resilient and more adaptable in an increasingly competitive landscape.
If you'd like to know more, read our comprehensive new paper Digital Dragon: Navigating Asia's Digital Banking Market.