In early 2020, when the COVID-19 pandemic shut down many everyday services, people discovered new ways of doing things—like grooming their pets or styling their own hair. Doing these things involved mainly online purchases. The way they made their regular purchases changed too—for example, getting their groceries delivered to their door or picking them up curbside. They didn't want to think about the payment method for those purchases; they just wanted to be able to make their purchases at the point of inspiration. Exactly what they needed, when they needed it, without extra effort or complication. That's what inspires people. 
Big tech has been really thoughtful about that end-to-end commerce experience, which is why it has generally thrived during the pandemic. On many platforms, payment is baked in seamlessly behind the scenes. People are now used to paying with a click, a tap, a subscription or a digital wallet. 
Payments are becoming invisible, and it's an approach that can be transformative for banks that embrace new digital possibilities 
Accenture's Flashpoints in Digital Payments report highlights how the disruption in payments accelerated during the pandemic. Online shopping and contactless purchases skyrocketed. According to our research, these new behaviors that were adopted out of necessity over a year ago are here to stay: "New customer habits typically take hold in as little as 70 – 90 days, so we think a lot of the behavioral change in payments will stick." 
It's too late for banks to "put the genie back in the bottle" and convince customers to rely on cash, credit cards and debit cards for their purchases. The report indicates that credit cards are the most vulnerable to disruption of all payment systems, and debit cards are also facing increased volatility in the near future. Customers now find it too inconvenient to enter a 16-digit credit card number when they make a purchase. You may as well ask them to dial on a rotary phone. 
Convergence is creating seamless experiences
Big tech leaders like Amazon and Uber and retail giants like Starbucks are leading the charge to make payments invisible. With Uber's embedded payment system, passengers no longer need to worry about having enough cash to take a taxi, or whether they have a credit card with them. Amazon's one-click ordering makes purchasing items—at the exact time of need—so simple that customers don't even think about it. It's a far cry from counting out cash and handing it over. These companies allow customers to "set it and forget it" and get on with the business of the day.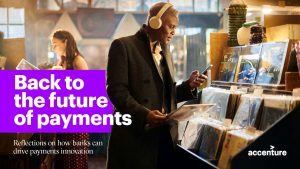 Even the types of credit available are changing. Point-of-sale credit solutions like "buy now, pay later" are threatening the dominance of the traditional credit card. Instead of having an aggregate debt to pay off for all of their purchases, consumers can access credit for a specific purchase with its own repayment terms. These offers often include several months without interest, and sometimes without payments.
While this trend was initially led by retail players, from car dealerships to furniture stores, banks too are beginning to wade into this space. Incumbents in the credit card industry, like American Express (Pay It Plan It) and Citi (Citi Flex Pay), are getting in on this trend by offering their own credit products for single large purchases.
Big tech doesn't "own" innovation
Creative ways of using technology are also changing the customer experience across industries. For example, QR codes are being used in new ways, such as restaurants having patrons use them to access the menu and retirement homes having visitors scan them to check in on arrival.
Recognizing that payment transactions now span many different technologies, Mastercard has introduced a "sonic brand" so that it has a distinct brand presence even in a non-visual transaction. A signature melody plays when a payment has been accepted.
Voice activation, e-wallets, facial recognition and other technological advances are opening the door to new payment methods. Banks that embrace technology and adopt an innovation mindset will be able to create seamless customer experiences. Those that change slowly, or not at all, run the risk of customers bypassing their payment systems in favor of more integrated solutions.
Technology creates opportunities to incorporate a variety of new features into payments. Think about these questions in terms of your payments offerings:
How can they be adapted respond to voice commands through virtual assistants like Siri or Alexa?
Are there other ways to integrate mobile device sound or gesture technologies into the payment experience?
How can payments be built into the background of apps that are already running so that customers don't need to access a separate payment app?
How can security features be enhanced using smartphone capabilities for authentication?
These are just a few of the many ways that banks can start to rethink the payment experience. The takeaway here is that no customer says "I'd like to pay for something today"—payment is the part of their purchase they'd like to think about as little as possible. When payments disappear into the background, everyone is happier.
You can watch my full interview in the Global Association of Women in Payments' series, Pause for Payments with Kristy Duncan, here: 
To learn more about the changing landscape in payments, register here to download the full report, "Back to the future of payments."
Register to view full report