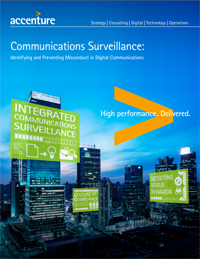 In this set of posts we're exploring new regulations—and consequently new challenges—around communications surveillance for financial firms.
And here's an interesting twist: Communications, it turns out, are only a part of the equation when it comes to communication surveillance. As described in our paper, Communications Surveillance: Identifying and Preventing Misconduct in Digital Communications, data generated from each and every communication is a critical component and we expected it to become "the" critical component.
Data is everywhere within financial institutions. Data is captured from transactions, positions, portfolios and performance history. But that's just the structured data. Today, financial firms also generate vast amounts of unstructured data. This can range from emails on third-party platforms to instant message content, and everything in between. Data posted on collaboration sources of any kind, whether text messages on a mobile device or posts to social media sites such as Facebook, Inc. constitute the vast set of unstructured data generated in the wake of every financial enterprise.
Complicating an already difficult scenario are new communications and social media tools that continuously jump into the mix. Not long ago, for example, Snapchat, Inc was a relative newcomer to social media. Today it hosts an estimated 100 million active daily users.
How can banks and capital markets firms manage all this data in such a volatile environment? It certainly can be difficult. We've seen some firms issue blanket bans on using external devices for business purposes—but this can only be a stopgap measure. Enforcing such bans is difficult, if not impossible—especially as new technologies become the more accepted methods of communication and information sharing.
A better solution, albeit not a simple one, involves a broader remit, enhanced technologies and approaches to develop a surveillance engine that includes processes for regularly adding new sources of data. That same engine needs the ability to sift and sort through vast stores of unstructured data to identify trends and shine a spotlight on malicious behavior, while still meeting all the requirements around protecting client data.
We'll talk solutions soon. In the meantime, my next post will delve into one further challenge facing financial firms: human capital for managing communications surveillance processes. Stay tuned.