My previous post shared the headlines from Accenture's 2016 Compliance Risk Study, focusing on the increasing demand on compliance. Today I'd like to unpack another key finding from the study.
In recent years, the function's stature within the organization was growing, with compliance leaders landing a seat at the leadership table. But this year's study points to challenges on this front. Only 31 percent of the leaders represented in our study report to the CEO. That's a 9 percent drop from our 2014 study. Why the decline?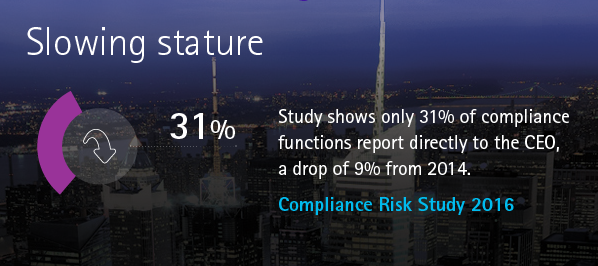 Compliance leaders face more barriers as they work to balance their advisory role while still maintaining an objective control function. Sixty-three percent of study respondents think increased front-line strength for the function might mean a decrease in the function's independence.
The key for compliance leaders is to manage a blurring of that line between the function's advisory and control roles, and thus promoting a strong first and second line of defense. Building strong relationships with other first- and second-line functions, such as Operational risk, Human Resources and Technology, can help Compliance fine-tune its own abilities.
Also important will be refining compliance's role as a risk management function—and scoping that role within all the enterprise-wide risk management activity.
Finally, an important priority will be building a better understanding of changing customer expectations. Cultivating this kind of knowledge can propel compliance into supporting front office processes such as product design, sales and distribution, or new business development.
My next post will explore additional study findings. For more information, see Accenture's 2016 Compliance Risk Study.