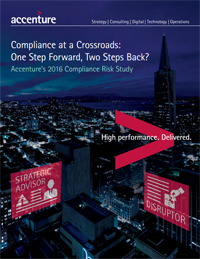 If you've been following my handful of posts reporting on Accenture's 2016 Compliance Risk Study, you've probably gleaned that compliance leaders face some challenges. Luckily, I don't believe these challenges are unsolvable.
Resources and tools can help compliance officers strengthen the function in meaningful ways. The biggest challenge, though, is that choices will have to be made. Resources and budgets can be limited—so what are the priorities? Where should leaders invest? With demand knocking at the door, most compliance leaders won't have the luxury of time to make a leisurely decision.
Accenture recommends following a few principles that can aid decision making:
Reassert compliance's value, and clarify its role and mandate: There's a balancing act between compliance's role as a strategic advisor providing risk management guidance to the front office versus its role as an objective control function. Four in five of our study respondents believe compliance needs a greater front-line, strategic role.
Use resources efficiently: Tools are available to help compliance leaders operate efficiently, including centers of excellence, business process outsourcing and new technology.
Make developing high quality data and technology architecture a priority: The right tools can help consolidate information and give complete insight into the health of the compliance function. Data and technology are foundational tools to support strong risk management, making them vital to the function.
Emphasize developing compliance talent: Cultivating, attracting and retaining talent is critical to building a strong pipeline. Rotation programs, enhanced learning opportunities and mobility help solidify the pipeline.
Communicate results of the transformation journey: It may be a journey of several years, but compliance leaders should keep communication channels open and regularly report results. Understand the varying needs of multiple stakeholders and clearly indicate the outcomes the function has yielded.
Keeping these principles in mind, compliance leaders have some guideposts to help them in their change journey. Maximizing the compliance function in the face of ever-increasing, ever-varying demand, is more important today than ever. It's time to face the future of compliance.
For more study results, see the 2016 Accenture Compliance Risk Study.
View other posts from this series:
Part 1: The compliance function's new balancing act
Part 2: Compliance study shows how function can reassert its status