Guest bloggers David Woynerowski, Andrew Broadhead and Peter Lischick discuss the competition among travel and entertainment (T&E) co-brand credit cards.
Travel and entertainment (T&E) co-brand credit cards (co-brands) are facing more competition than ever from bank proprietary travel and cash-back rewards cards. In the past, bank proprietary travel rewards cards were designed to mimic airline cards, but in recent years, banks have invested in features that make their cards superior in many respects, and more threatening, to T&E co-brands. Moreover, the competitive landscape for T&E co-brands has intensified as new entrants (e.g., regional banks) and established players expand their product suites and inundate the U.S. credit card market with a variety of new bank travel and cash-back products – Figure 1 shows at least 22 new bank rewards products in the last 19 months.
Figure 1: U.S. Travel and Cash-back Credit Card Launches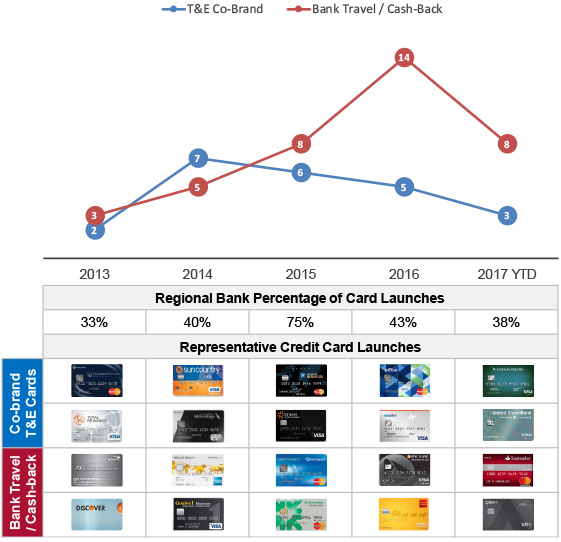 This proliferation of proprietary rewards products is likely the result of an extended period of historically high profitability in the credit card industry, a general flight to quality, and efforts to attract previously credit-averse emerging affluent segments (e.g., Millennials). Recent market disruption caused by loyalty program changes at the major airlines may have inadvertently made T&E co-brands more vulnerable to these new or improved bank products. Key areas of investment by banks include:
Enhanced Earn Rates: Banks have adopted a broader set of spend categories that qualify for higher earn rates and launched products with high baseline earn rates.

The PNC Cash Rewards card offers cardholders an expansive set of cash-back spend categories: 4 percent on gas, 3 percent on dining and 2 percent on grocery purchases
The Santander Ultimate Cash Back card offers cardholders a high baseline earn rate with unlimited 1.5 percent cash-back regardless of spend category

Improved Redemption Value: Banks are offering enhanced value for redemptions in certain categories.

The US Bank Altitude Reserve card offers a 50 percent bonus for travel redemptions
Barclaycard CashForward allows cardholders to receive 5 percent cash-back for every redemption

Alternative Travel Benefits: Banks have invested in partnerships and enhanced existing travel benefits in order to address legacy gaps relative to T&E co-brands.

The Capital One Quicksilver* and American Express Platinum cards partnered with Uber to offer discounts or credits for rides
American Express partnered with Hilton and SPG to offer status in their respective loyalty programs to Platinum cardholders
American Express launched Centurion Lounges at select airports across the U.S. and added access to the lounges as a benefit for the American Express Platinum card

Flexibility/Ease of Redemption: To fortify a core pillar of the value proposition for bank proprietary rewards programs, banks lowered the friction of redemption by offering more options and the ability to redeem rewards via mobile devices.

Most major banks have established a partnership with Amazon to offer Pay with Points functionality
US Bank made mobile real-time rewards redemption a key selling point of their new Altitude Reserve credit card
T&E providers (e.g., airlines, hotels) have also invested during this period, although with a greater focus on enhancing the utility of their underlying rewards programs (which can affect the perceived value of the linked co-brand card). Specific areas of investment by T&E providers include:
Expanded Loyalty Partnerships: T&E providers established partnerships to offer new earn opportunities to their member bases and/or seek reciprocal status for their elite members.

United and Marriott offer reciprocal earn opportunities and certain elite members receive comparable status matching
Airlines have partnered with hotels and car rental companies to allow members to earn miles on hotel stays and car rentals

Loyalty Status Enhancements: Cardholders are offered elite status or waivers for certain qualification requirements.

Hilton Honor Surpass cardholders automatically receive Honor Gold status
Cathay Pacific cardholders receive complimentary green tier membership for one year to the Marco Polo Club, Cathay's loyalty program

Spend-Threshold Rewards: Cardholders receive enhanced benefits for meeting certain spend thresholds.

Hilton Honors Card from American Express upgrades cardholders to Gold Status from Silver after they spend $20,000 in a year
American Airlines offers certain cardholders (AAdvantage Executive Card and Aviator Silver) elite qualifying miles for meeting certain spend thresholds
On balance, banks have leveled the rewards playing field between their proprietary credit cards and T&E co-brands. Accenture recently compared the features and benefits of the leading U.S. bank proprietary travel and cash-back cards with those of the largest T&E co-brands, as well as a number of regional banks and smaller T&E co-brand programs that recently launched new products. Figure 2 highlights the key areas of differentiation between T&E co-brand and bank proprietary travel and cash-back programs and summarizes the prevalence of credit card capabilities across the two segments.
Figure 2: Prevalence of U.S. Travel and Cash-back Credit Card Features & Benefits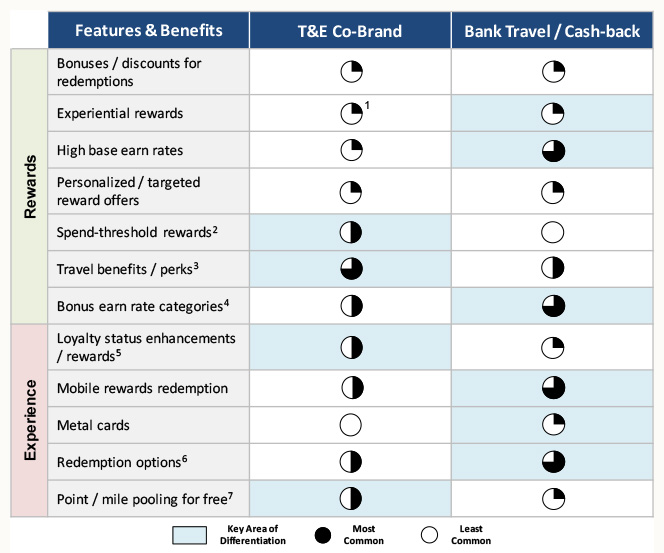 Although T&E providers still hold advantages in certain areas, bank proprietary travel and cash-back cards are differentiating beyond more flexible reward redemption through higher base earn rates, bonus earn rate categories, and mobile rewards redemption.
Two of the largest airlines have responded with new product launches recently. United and Delta introduced products that both appear to target less frequent flyers with different approaches. The new products offer straight-forward rewards with compelling earn rates while stripping away traditional features (including travel perks and annual fees) of T&E co-brands that are less valued by these customers. However, Delta's product, in offering SkyMiles as the rewards currency, is an entry-level product for the credit card and frequent flyer program. In contrast, United's TravelBank card appears more focused on addressing the cash-back segment, as it offers TravelBank cash instead of miles as the rewards currency. While it will take time to determine whether these products succeed in growing the airlines' card portfolios, Delta and United have opened new competitive fronts with bank proprietary cards.
Looking forward, it will be interesting to see how other T&E providers respond to the proprietary bank rewards card threat.
*Uber's and Capital One Quicksilver's partnership is no longer offered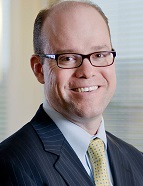 David Woynerowski, Managing Director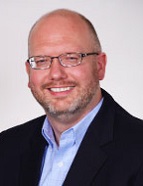 Andrew Broadhead, Senior Manager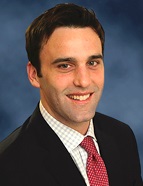 Peter Lischick, Management Consultant