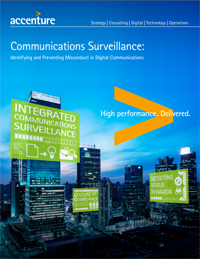 We've been examining communications surveillance for financial services firms in this series of blog posts. We talked first about the many, potentially worrisome doors opened by social media tools, and we've looked at the ways data, particularly unstructured data, can bring more challenges.
Today we'll look at a different communications surveillance concern, which evolves around human capital. Specifically, where will financial enterprises find the people resources they need to conduct effective communications surveillance?
Our paper, Communications Surveillance: Identifying and Preventing Misconduct in Digital Communications, notes that complex surveillance tools and processes can't operate by themselves. But finding, cultivating and retaining the right resources to manage surveillance is a big challenge for the financial services industry.
What financial firms are looking for, in essence, is a surveillance data scientist—someone who can analyze and grasp the meaning of communications from any variety of sources, weeding out false positives and easily spotting anomalies or trouble spots.
But this isn't simply a matter of finding and hiring the right people. Businesses need also to think about the effectiveness of the function and its location: Where should the people and teams managing communications surveillance reside and how do we connect and enable them? How do we give them access to all the sources required to be insightful and responsive? This will depend upon the organization's vision, size and surveillance needs. But what is clear is that local privacy laws will come into play and institutions will need to balance local requirements alongside global requirements.
One more dimension comes into play when we talk about communications surveillance and human capital: The workforce. Certainly, skilled resources are needed to develop and manage the surveillance process. But, after all, it is people and their communications that firms are monitoring. Building an informed corporate culture that better enables professionals to know and observe policies is an important goal. Even better, building a corporate culture that values ethical, honest behavior and self-policing can be a critical first step toward a strong surveillance program.
We've considered many angles of the communications surveillance challenge here. In my next post, we'll focus on how to build an integrated solution.