---
Faced with digital disruption and ever-evolving customer expectations and regulatory demands, financial services (FS) firms have been looking for a more high-velocity approach to change, balancing continuous change punctuated by significant transformation.
Agility is a company's ability to anticipate and quickly respond to opportunities in the market in ways that create competitive advantage and handle challenges and threats.  This is both about how the enterprise works – its organisation, workforce, operations, systems and data – as well as how change is executed.
Agility is becoming the strategic imperative for the industry. That's according to our FS Change Survey 2017, for which we interviewed 787 senior executives from 10 countries about their attitudes to change, their capabilities for managing it and achieving the targeted benefits, and their approaches and priorities. When asked to rate their flexibility and agility, 94 per cent of change leaders (those seeing the best results) ranked their organisations as either 'flexible' or 'highly flexible' compared to 60 per cent of their peers who gave their firms similar rankings.
The change leaders use agile more and more at scale. Our survey also found that change leaders employ agile methodology in 60 per cent of all their change programmes, whereas the rest of the industry uses agile for only 37 per cent of change programmes.
What's perhaps most remarkable about change leaders is that they are better at making agile work and report significantly better outcomes from agile (83 per cent vs. 57 per cent), improved stakeholder engagement (79 per cent vs. 58 per cent) and greater change efficiency (87 per cent vs. 50 per cent). Change leaders also observe an increase in collaboration and innovation (82 per cent vs. 62 per cent), while delivering projects faster (8
6 per cent vs. 56 per cent).
So let's explore this idea of agility more. What is it? Herein lies a paradox. Although many think of speed and stability as opposites, true agility requires both.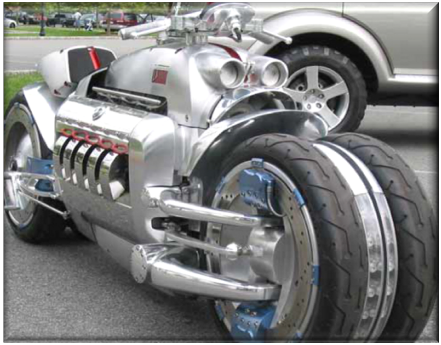 The Dodge Tomahawk motorcycle is a great example of this: It can reach a top speed of up to 350 mph, and features a massive (72-inch) wheelbase with two 20"x4" front tyres and two 20"x5" back tyres.
Just as a motorcycle would tilt at high speed without sufficient structure, so too would an organisation without sufficient stability.
Accenture research bears this analogy out, and reveals that true agility pays. Researchers in our Organizational Analytics unit developed two quantitative indices from surveys of over 300 organisations and used them to classify those organisations into one of four categories. Companies in the "Truly Agile" quadrant were far likelier to report outstanding financial performance in their industry than either chance odds, or any of the other categories.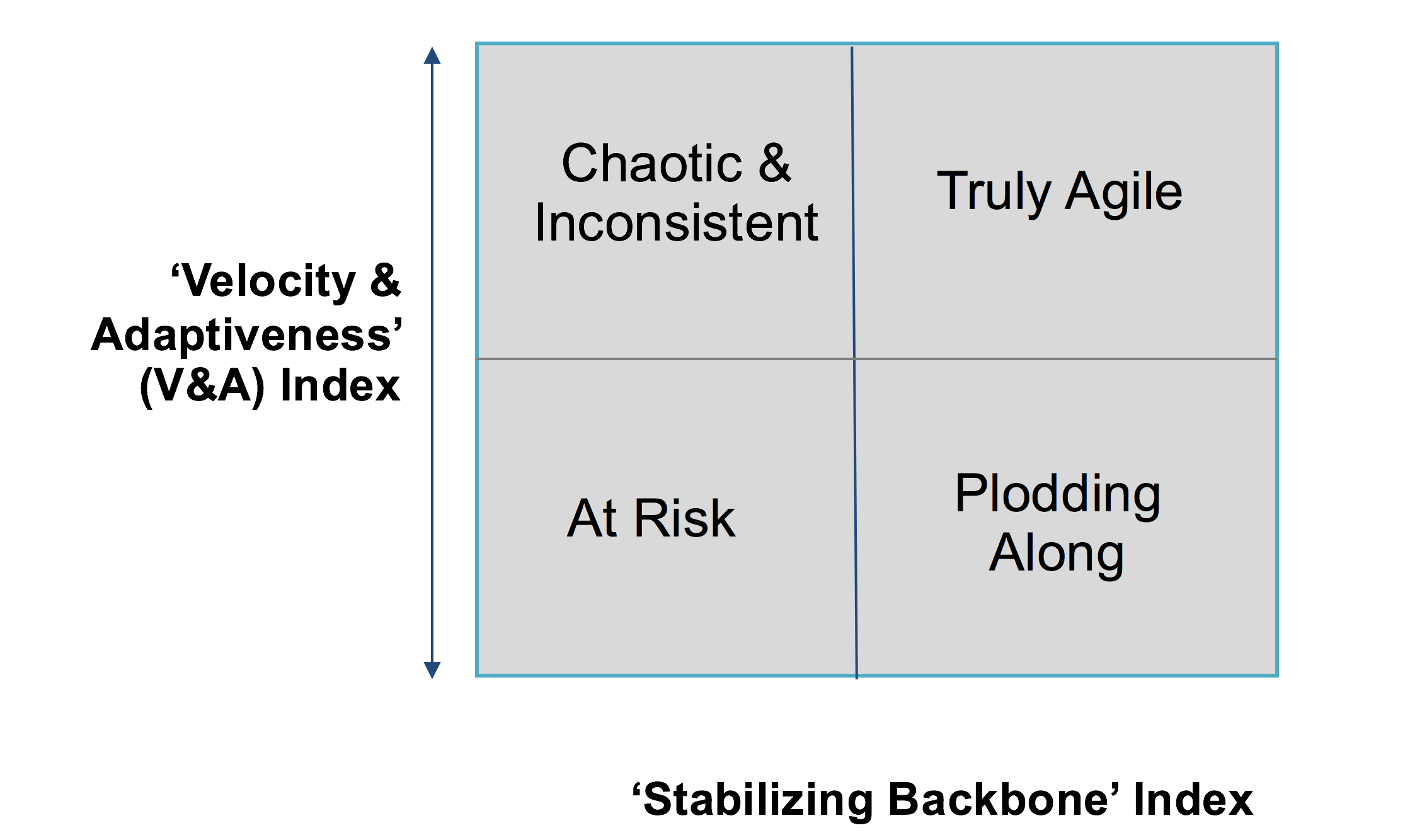 The Truly Agile organisations in that top right quadrant have a number of characteristics consistent with the 2017 FS Change Survey results. Their culture emphasises innovation and a focus on people, trust and ethical decision-making. Their strengths are efficiency, speed, talent and competitive advantage in the market. The challenges they face is maintaining their 'stabilising backbone' given the furious rate of change – for instance if the organisation changes too fast it is very easy for the cultural or leadership DNA to become diluted. These organisations are big and nimble because they are well run and built for fast-paced change.
So agility is more than just 'doing agile' or 'moving agile beyond IT'; it is about embracing a different mindset and way of working. These things can be achieved within the existing operating model and organisation structure, but many organisations are now choosing to challenge these as well. Adaptive operations, liquid workforces, self-managing teams and digital-decoupling are all ways that FS organisations are reimagining the way they work to achieve true agility. These tangible changes are insufficient without a shift in leadership, culture and capability as well.
These are not easy things to do – it takes courage to challenge the status quo. It will be the leaders who do this and make their organisations big and fast who will dominate the financial services industry in the future.
In my next post, I'll take a look at how the human factor can make or break growth.
To find out more about the Agility Index, the Financial Services Change Survey or to join our FS Change Directors Forum, please contact me here, or on Twitter @AndyYoungACN.
Special thanks to Michael Bazigos for his incredible work on the Agility Index and developing our insight-driven approach towards change.
You can read more survey results here.