When Spanish Conquistador Hernando Cortez burnt his boats on a Veracruz beach, it was an extreme act of commitment; a signal that there was no going back regardless of whether they found Aztec gold or not.
There are now a lot of traditional banks who are faced with the question of whether to "burn the boats" and fully commit to a digital future. Some continue to cling to the hope that rising interest rates, stronger economic growth and a regulatory backlash against new entrants will save them, and that change can be incremental. These are the Traditional+ banks for whom digital is still a peripheral add on.
However, increasingly banks are realizing that they should be lighting the torches and packing for the digital jungle if they are going to find gold. These are the Digital+ banks who see their future primarily in the online and mobile world, but recognize that—at least for a while—face-to-face interaction or live contact center support still has an important role to play in the business model. They recognize that relaxing on the boats offshore is no longer an option, as digital competitors are drilling holes in the bottom of those boats and siphoning off customers with compelling digital-only offerings.
Our research shows that most banks now recognize the threat. Eighty-four percent of banks say they see a need to reinvent themselves and evolve their business before they are disrupted from the outside. However, the research also suggests that they fall short in their readiness and ability to truly embrace a digital future.
Accenture recently assessed the Digital Readiness of European banks across four distinct dimensions: strategy (plan), production and delivery (make), customer experience (sell) and operations (manage). The result was that the banks performed best in the areas of strategy and sales, and were lagging in product development and operations when compared to leading digital innovators.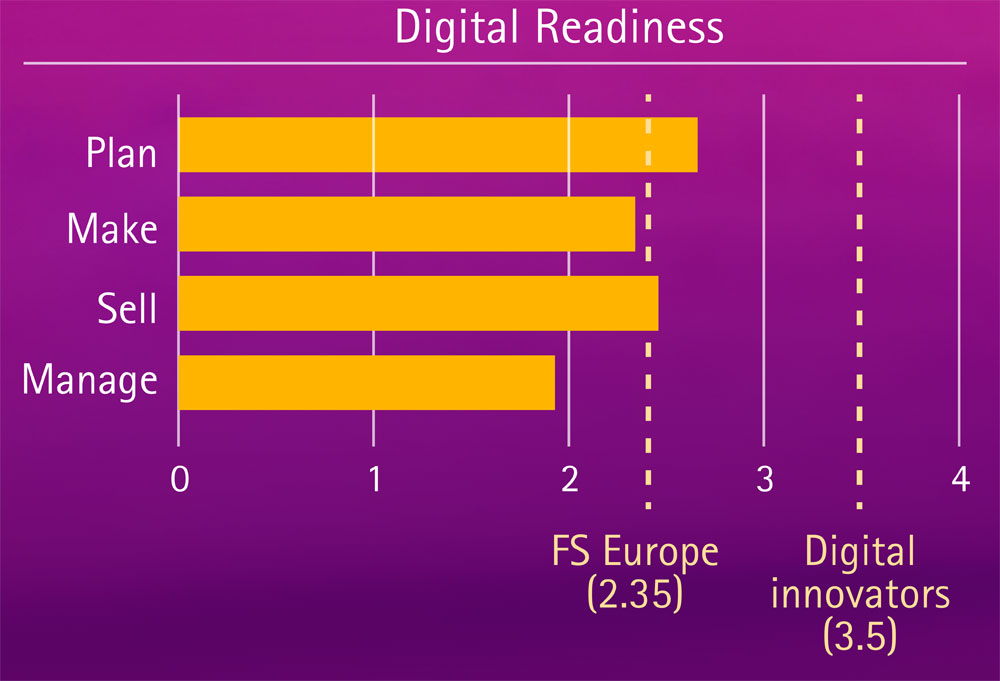 For example, while almost all European financial services firms have digital as part of their corporate strategy, only 37 percent have a dedicated budget for digital transformation. Nearly 90 percent are focused on developing digital products, but only 60 percent are also developing products digitally. While 91 percent of firms provide marketing content to customers via digital channels, only 62 percent target that content based on browsing history.
To close the gap and move from being Traditional+ to Digital+ organizations, European banking needs more Cortez-like boat burning. Operating and investment budgets need to be completely rethought, and customers and employees need to hear, see and feel an institutional-level commitment to a digital future. It will be scary and challenging, but if management doesn't put a torch to the traditional business model, the thought of being able to just get back on the boat if digital doesn't work will undermine the transformation they need to go through.
For more on digital readiness in financial services, read our full report: Accenture European Financial Services Digital Readiness Report—European Banks and Insurers and the Quest to Stay Relevant.