Building digital core banking capabilities isn't a matter of flipping a switch. Then again, it need not be a radical change effort either. Implementing some of the most essential digital capabilities may require redesigning or replacing existing core banking platforms or modules.  But the overall transformation can happen gradually, taking smaller steps, so long as those steps are not one-off activities but part of the broader journey.
The good news is most banks have already started on this journey—because today's digital environment has demanded it. Now it's time for banks to fold their preliminary steps into a more comprehensive strategy. And to do that, banks must choose a starting point, which, of course, will depend on the current situation and the business strategy towards digital.
We believe established banks can kick off their efforts from one of these five potential starting points. Choosing the most appropriate of these progressively more challenging starting points is vital to ensuring a smooth and successful transformation.
Omni-channel platform: This involves hollowing key capabilities from the core and re-orchestrating them to deliver a differentiated customer experience.
Data as the core: Banks can build their capabilities around reporting and predictive analytics, simplifying the way they store and analyze their depersonalized, opt-in customer data.
Customer digital ecosystem: This starting point focuses on using existing data capabilities, extending it to improve the customer experience and embrace new digital customers.
Gradual core banking transformation: For those choosing an intermediate approach, this option focuses on building new digital functions and capabilities to support new channel demands. It involves separating customer-facing services such as mobile wallets and remote check deposit from internal support services, and becoming an online, real-time, fully automated and scalable engine.
Modernization to cloud: Banks ready for a disruptive effort can build a just-in-time transactional factory as they modernize to Cloud. With this path they will transform core banking into a component-based engine that differentiates between customer-facing and internal processes.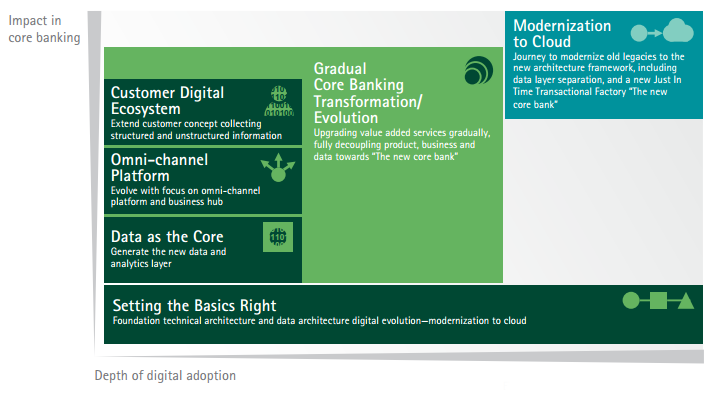 Ask yourselves: How ready is your core banking to support your digital transformation journey?