Recently, a debate arose in the Netherlands on the intention by a key financial services player to share customer payments data. Data privacy is an ongoing concern, around which some worries have merit—while other worries do not.
We know the era of Big Data is here to stay. We in the banking industry fully understand the vast volumes of data involved in every banking and financial transaction. We see even more data becoming available as banks connect socially to their customers. We know judicious use of this data can position banks to become the "Everyday Bank," the indispensable, trustworthy, always available partner that understands and supports its customers in whole new ways. The Everyday Bank uses data to enable meaningful interactions – helping customers by providing information, supporting their decision making and guiding them to recommended commercial offers, all at the right time, in the right place and in the right manner.
A set of boundaries and rules need to exist when it comes to using data. It is necessary to:
Adhere to national legislation (in every country where they operate) and industry standards on data privacy, protection and storage.
Offer customers the ability to opt in (with opting out as the default) to receive commercial communications and offers from the bank, its partners in the digital ecosystem and third parties.
Monitor continuously risks associated with big data, including the risk of data loss or theft (the identity theft involving 40 million Target customers comes to mind).
Proceed with a clear understanding of how data usage can affect its reputation and customers' trust. Good use of data can increase both reputation and trust, whereas poor behaviors around data can be devastating for the bank.
The good news is that Banks have already in place infrastructure, processes and procedures to manage security and privacy for their own customers and, we believe, they are in the best position to evolve further and be ready to capture multi-source information – which, once analyzed, will provide superior services to the customer.
By creating boundaries and keeping careful watch on data usage behaviors, we believe there is space for banks to flourish by leveraging data. To date, consumers believe banks are the most trustworthy recipients of personal data, according to Accenture's recent CMT Digital Consumer Study 2014. Banks can use data to improve customers' experiences—and even their lives!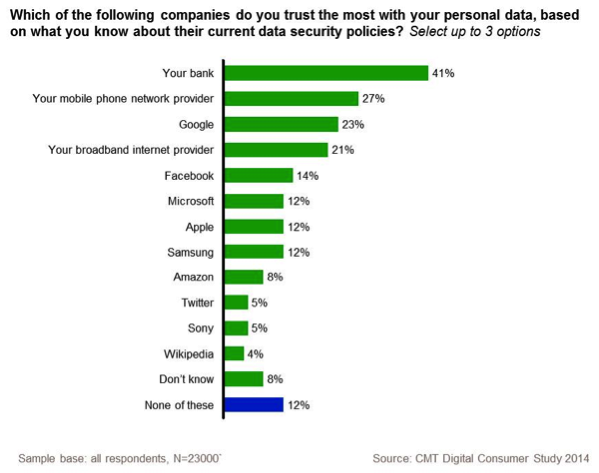 Clarity around opting in to data sharing is a must. Customers must understand just what it means when they allow banks to use their data—not just the negatives, but the positive gains they can see from permitting data usage. Customers should understand, "If I let my bank use my data, I should see a benefit, in the form of truly targeted context-based offers, for products and services I actually need, from merchants I trust."
Banks currently strong on analytics should have no reservations whether customers wish to opt-in or opt-out, and at the same time need to recognize that opting-in is no carte blanche to offering any product or service: With opting-in comes the responsibility of making sure that offers and "conversations" from the bank and its partners are warranted, of value to customers' lives and add to the overall experience. And past history in accepting and/or refusing offers needs to become integral to the Customer Analytic Record (CAR).
Thus, by connecting transactional data acquisition with meaningful analytics processes, and using appropriate distribution channels, the Everyday Bank can use opt-in customer data to everyone's gain. Doing this helps it truly become an indispensable, Everyday Bank.