Recently we talked about liquidity risks and regulations, notably the Liquidity Coverage Ratio (LCR) and high-quality liquidity assets (HQLA). We looked at ways financial institutions can build a solution that helps them interpret regulations as they apply to their unique situation and respond accordingly.
But is the enterprise done, once a solution is in place? What does the ongoing picture look like when it comes to managing LCR and HQLA?
When managing liquidity on an ongoing basis, two key issues surface:
Operating model: The organization's operating model should connect liquidity into the broader scope of risk management and risk reporting.
Balance sheet management: Integration doesn't stop with the operating model. Next, financial institutions should incorporate liquidity risk management into balance sheet management, alongside stress testing, profit optimization and capital management processes.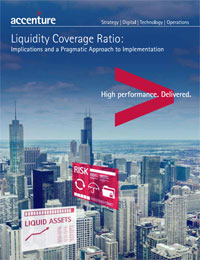 In essence, it's about moving beyond the regulatory requirements, and finding the business benefits inherent in liquidity risk management.
By calculating a controlled and accurate ratio, treasury functions are better at managing their liquidity positions, meeting regulatory requirements and performing effective balance sheet management across multiple legal entities.
Clients now have liquidity management platforms that not only assure their ability to meet regulations, but help anticipate additional, future requirements. They've also gained improved reporting, such as more robust asset liability management monitoring.
Incorporating liquidity requirements into day-to-day business decisions can make a significant difference in a bank's portfolio. Liquidity risk management aids in cash flow projection and can influence important strategic decisions.
Why stop at simply fulfilling the regulatory requirements around liquidity? Banks that embrace liquidity risk management can gain business benefits beyond checking the "completed" compliance box.
Read our report, Liquidity Coverage Ratio: Implications and a Pragmatic Approach to Implementation, for more information.