Guest blogger Bob Rohr discusses the adoption of faster payments and improvement recommendations by the Faster Payments Task Force.
The Faster Payments Task Force released its much-anticipated final report on July 21st, outlining a roadmap to ubiquitous faster payments in the United States by 2020. The report, positioned as a "Call to Action," marks the completion of the task force's 2+ year journey analyzing the United States payment systems, evaluating proposals, and detailing recommendations to implement a faster payments system. The task force developed 10 recommendations, grouped in three categories.
Figure 1: Faster Payments Task Force Recommendations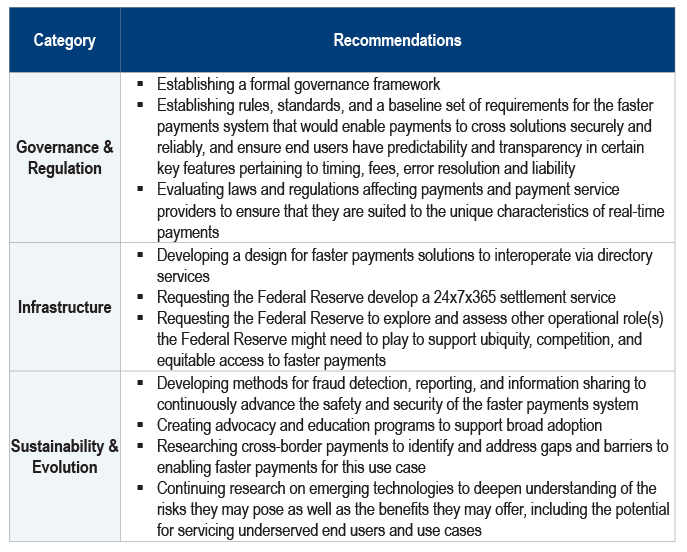 The task force, as expected, did not recommend a single Faster Payments platform, opting instead to outline broad guidelines for the marketplace to implement. The task force stressed collaboration among competitors to create a ubiquitous network. The decision to let the marketplace drive development stems from two factors: i) consistency with prior "hands-off" approaches to payment system mandates; and ii) belief that the market is more flexible, with faster innovation. Interestingly, the task force did single out the Federal Reserve, requesting that it develop a 24x7x365 settlement service and assess the operational roles it can play to facilitate collaboration and ubiquity.
No industry standard mechanism exists for real-time settlement today. Any "real-time" funds transfer is typically masked as funds availability, with settlement occurring during established windows. Financial institutions participating in closed-loop networks may guarantee funds or perform an immediate transfer from a specialized GL account for low-risk payments, but true real-time settlement would likely require centralized development, with connectivity to all faster payment platforms. The Federal Reserve is in a unique position to develop this service, or sponsor an independent organization on its behalf, given its reach and expertise. Solving the 24x7x365 settlement equation on behalf of all financial institutions would expedite the industry's transition to faster payments.
The Federal Reserve is also positioned to help mitigate the competitive, economic, and business process issues that may arise when competing platforms must collaborate to achieve the task force's vision of a ubiquitous, widely adopted faster payments service. The Federal Reserve can develop its own intellectual property in provisioning a directory service, providing security, and/or enabling specific use-cases; at a minimum, it can act as an intermediary for competing platforms to collaborate on business issues to facilitate partnerships or switching guidelines to enable connectivity and reach.
The release of the faster payment recommendations marks a milestone for the task force, but the beginning for the industry. Multiple platforms operate today, marketing faster payments through specific use-cases and closed networks. Achieving a widely adopted, 24x7x365 real-time settlement platform by 2020 is ambitious, given the legacy technology and business practices many businesses and financial institutions deploy today. Broadly adopting faster payments (beyond P2P) requires systemic changes for all payment value chain stakeholders, which is why the task force is positioning faster payments as a historic opportunity to revolutionize money movement.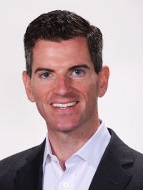 Bob Rohr, Senior Manager