---
Role of the central bank in driving a digital economy
Central banks' key functions have remained largely unaltered since the first such institution was established in Sweden in the mid-17th century. These include setting monetary and financial policy, acting as lenders of last resort, ensuring the stability of the financial system and supervising the financial industry.
The pace of digitally driven change throughout the financial services industry has caused central banks and regulators* to review their approach to supervision and policy-making. This series of articles will show that the time for digital central banks has arrived.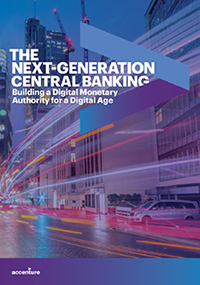 The fact is that central banks are not immune from the changes brought about by digitization.
These changes fall into four main areas:
New entrants, such as fintechs, that have permanently altered the financial services landscape

New technology such as blockchain, artificial intelligence, cloud, quantum computing and analytics—much of which lacks definitive market standards

Heightened and changed customer demands and expectations

The growing sophistication of security threats, the volatility of a global economy that comes with the increased volume of regulations, compliance etc. to ensure financial and economic stability
In times of crisis there is greater emphasis on the need for a resilient financial infrastructure underpinned by a nationwide digital infrastructure. This would serve as a key enabler of stability for the financial sector.
In short, central banks need to review their approach, given that financial institutions are adopting new technologies, data is becoming more crucial and security threats are more pronounced. At the same time, those organizations which are regulated expect a more consistent service.
To continue to meet their mandate—and to do it better—central banks must become digital regulators.
To make the transformation, develop the necessary capabilities and stay relevant, they need to focus on four pillars and a strong foundation:
Pillar 1: Harness the power of data to sharpen their surveillance of risks, strengthen their financial oversight, drive regulatory compliance and boost monetary and financial policy-making
Pillar 2: Enable and drive innovation internally and externally to promote a vibrant digital economy
Pillar 3: Drive efficiencies and develop a secure, resilient, future-ready infrastructure for both the central bank and the financial services sector
Pillar 4: Improve communication and engagement with the industry using more holistic digital services and two-way communications
The Foundation: The four pillars won't function unless the central bank transforms its workforce for a digital future. Additionally, central banks must strengthen their internal delivery capabilities in terms of robust operations, such as leveraging automation and using lean processes—and helping to transition the financial sector's workforce.
In subsequent articles in this series I will discuss each of the elements outlined above.
If you'd like to know more, register to read our comprehensive paper, The Next-Generation Central Banking.
---
*Although the regulatory functions of central banks vary, and in many markets a range of additional supervisory bodies have regulatory powers, the recommendations of this paper apply to all such authorities.