Other parts of this series:
---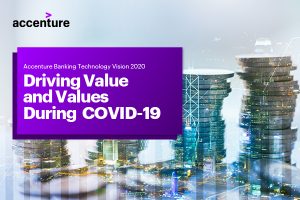 So far in this blog series, I've talked about how COVID-19 is amplifying banks' need for innovation and the key technology trends that will shape the near future. The long-term challenge is to set banks up to successfully rebuild and recover when the worst of the pandemic is over.
Here are some considerations for building a future-ready banking operation post-COVID, as discussed in our Technology Vision 2020 report:
Transform the purpose of a digital experience. Leaders will make interacting with the bank as accessible as messaging a friend by utilizing technologies such as chatbots on Facebook Messenger and WhatsApp. In the future, banks will be able to tailor people's banking journeys via 5G, augmented reality (AR), and virtual tellers powered by artificial intelligence (AI). Such omnipresence will require banks to get it right, but those that do will be able to sustain a post-pandemic advantage.
Enable human-AI collaboration. COVID-19 pushed banks to adopt AI tools rapidly. In the long term, they will need to replace the "command and response" relationship between humans and machines with an experience that is interactive, exploratory and adaptable. Advancements in natural language processing, image recognition and machine learning are improving the capabilities of machines to understand the context of human communication, while explainable AI allows humans to better understand the machines. This will help banks build trust with consumers and demonstrate both compliance and ethics in decision-making to regulators.
Remember that the human touch still matters. Despite the lockdowns and quarantines of the first half of 2020, customers will continue to seek warm relationships, human conversations and reliable advice in the post-COVID world. Banks need to explore what customers might want in five years and work backward to consider what channels, sensors or technologies might be necessary to support these ambitions.
Overcome legacy and accelerate digital. Leading banks are focusing on targeted transition strategies, developing a path and vision for decoupling applications from legacy infrastructures and moving to the cloud. For example, Goldman Sachs has built a platform called Marquee, which it used to decouple data from its respective data silos. Marquee combines transaction, research, market and other data into a data lake and uses machine learning algorithms to generate fresh insights that guide decision-making. Creating a resilient innovation DNA that puts agile and DevSecOps at the core will position banks to meet new needs and build new capabilities faster than before.
As banks emerge from the pandemic, those that have a shared-success mindset—and invite collaboration with customers, employees, ecosystem partners, governments and the public—will be the ones that create new opportunities for growth in a way that benefits all.
Is your bank ready for the post-COVID world?
To learn more, read our full report: "Driving Value and Values During COVID-19."
---
Disclaimer: This document makes descriptive reference to trademarks that may be owned by others. The use of such trademarks herein is not an assertion of ownership of such trademarks by Accenture and is not intended to represent or imply the existence of an association between Accenture and the lawful owners of such trademarks.