There are so many industry articles proclaiming the death of the bank branch that I'm reminded of that Mark Twain quote that goes something like this: "Reports of my death are greatly exaggerated."
It is true that the branch is not what it was. However, rather than being at the end of life, the branch is on the cusp of a new life—if banks make changes.
Through consumers' eyes
Our latest consumer research study—the 2015 North America Consumer Digital Banking Survey—surveyed more than 4,000 consumers in the United States and Canada. Data revealed trends in consumer attitudes toward the branch, including the following:
The majority of consumers (86 percent) would not switch branches if their local bank branch closed.
For the first time, consumers rank good online banking services—not convenient branch location—as the leading reason for staying with the bank.
Some consumers over 55 (43 percent) prefer the online channel to branch locations.
These results suggest that customers are redefining banking convenience. It is increasingly about online access over proximity to the branch.
Even so, customers don't want to totally abandon the branch. They simply have new expectations of what they want the branch experience to be.
A hunger for technology options
Banks have opportunities to meet these changing customer expectations—and technology has an important role to play. This is exciting news for banks looking for ways to bring customers to the branch beyond hiring a barista and investing in comfortable seating.
As part of the survey, we asked consumers to rank a number of in-branch services and technologies in the order of importance. This chart shows their preferences: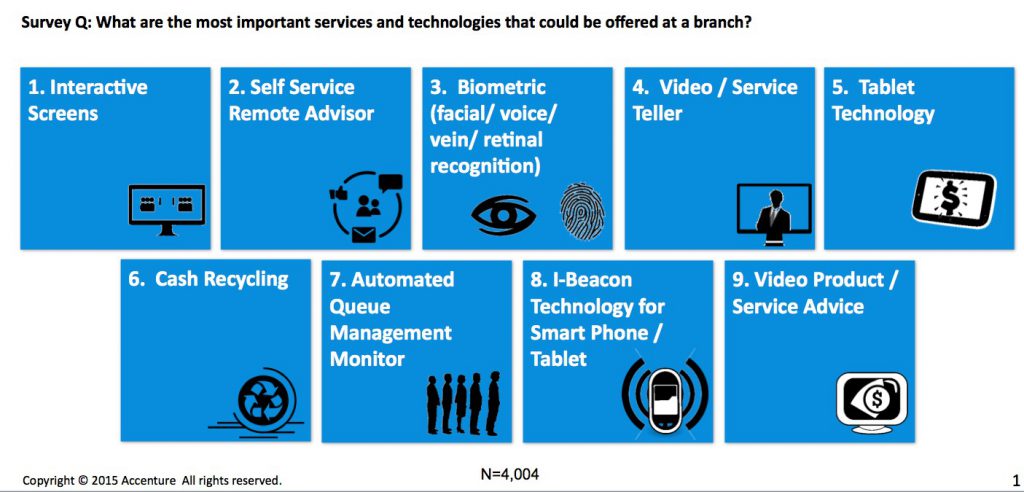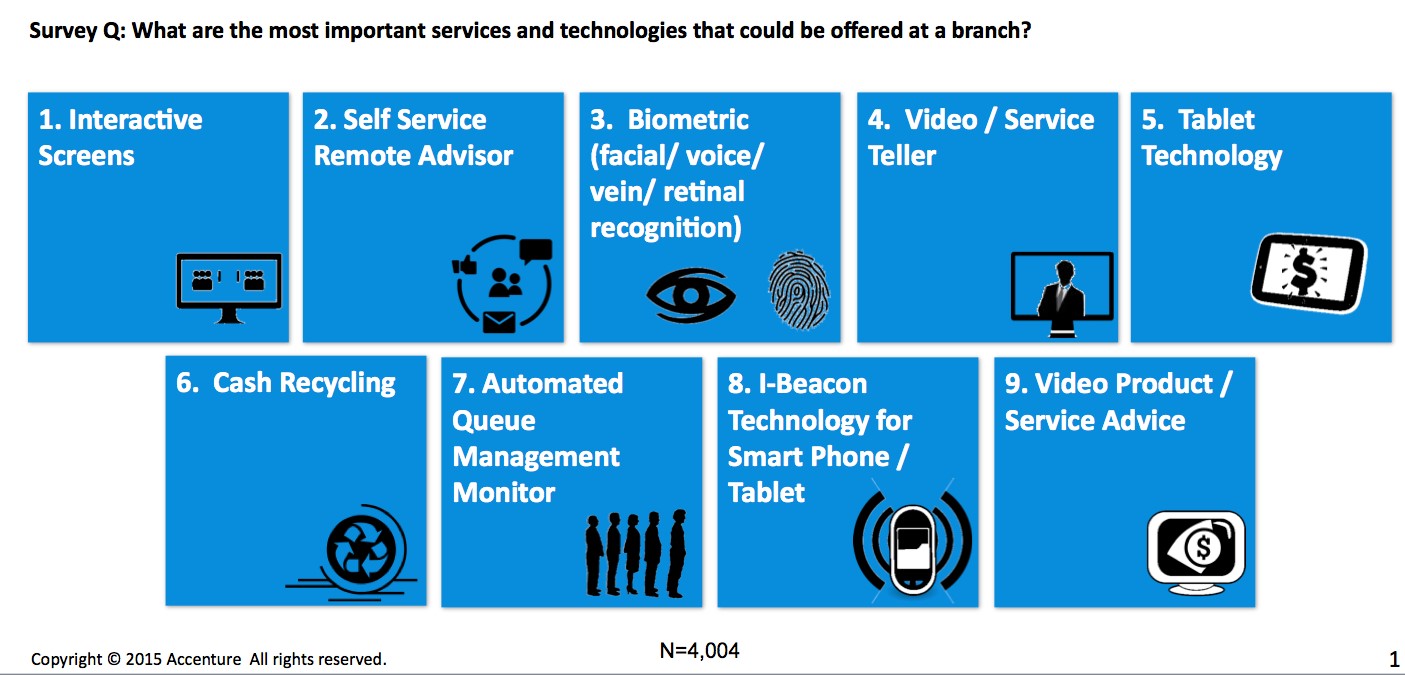 The data tells us that the top three technologies that consumers are most interested in having accessible to them at the branch are interactive screens, self-service remote advisors and biometric technologies.
The branch as a technology hub
The survey reveals a watershed moment for banks in developing their branch strategies. This moment involves changing the mindset about the relationship between technology and the branch.
Because online and mobile are inherently technology-driven banking channels and the branch is the prime physical channel, it is easy to think of the branch as the "non-technical" channel. But it does not have to be this way.
Banks can bring interactive technologies to the branch, and some are already doing this. The vision is to create a hub where customers can learn about and use technologies to complete financial transactions or improve their financial literacy. Customers can take what they learn into their activities outside of the branch. Technology becomes a bridge between channels rather than an either-or proposition.
When we talk about branch reinvention, it goes without saying that while technology is non-negotiable, it is only one element of a broader transformation. The end game for the new branch experience must be immersive and meaningful customer experiences.
Learn more about Accenture's latest consumer digital banking survey.
On Thursday, June 12, join me and Wayne Busch, Robert Mullhall and Jodie Wallis of Accenture for a Twitter chat to discuss the Accenture North America Consumer Digital Banking Survey 
Chat questions will cover the customer digital experience, becoming more than a transactional bank and the #EverydayBank. Chat is 3pm-4pm Eastern and led by Accenture Banking Twitter account, @BankingInsights. Chat hashtag is #NABankStudy.
 If you do not have a Twitter account, you can still watch the conversation by following #NABankStudy on Twitter (account not required).
To participate in the chat, log in with your Twitter account and follow the #NABankStudy hashtag. Official chat questions will come from @BankingInsights.