High-income consumers are an important demographic for the financial services industry. After all, their income, assets and investments, and spending levels often mean that they naturally have deeper relationships with the industry.
Not surprisingly, payments players invest heavily in building relationships with affluent customers as well as trying to capture the coveted Millennial demographic, both of which have similar buying patterns. Premium cards with white-glove perks and lifestyle-related rewards offer consumers cachet and convenience in exchange for loyalty—and profits.
But are these approaches still enough to capture the high-income consumer market considering all of the disruption in the industry?
New Accenture research reveals that the answer to this question may be no. In fact, there are clear opportunities for the payments industry to go beyond the premium card to meet high-income consumers' changing payment behaviors.
The 2014 North America Consumer Payments Survey surveyed 4,000 consumers to understand their attitudes about payments and how they expect to pay in 2020. Our findings show that high-income consumers—households with an income of $150K and above—are driving the adoption of emerging payments instruments.
Payments players cannot ignore the role of high-income consumers and millennials as first movers in this area. Premium cards could lose their luster if preferences shift to emerging payment alternatives. So how can providers fill the void? Consider the following trends:
1. High-income consumers are exploring new ways to pay.
By 2020, high-income consumers' use of cash, debit and credit cards, and checks will decrease. At the same time, this group's use of PayPal, Inc. and digital currencies will increase. More high-income consumers than any other age group predict at least daily or weekly use of these payments instruments by the end of the decade.
Use of Payment Instruments in  2014 and 2020: Income Level Comparisons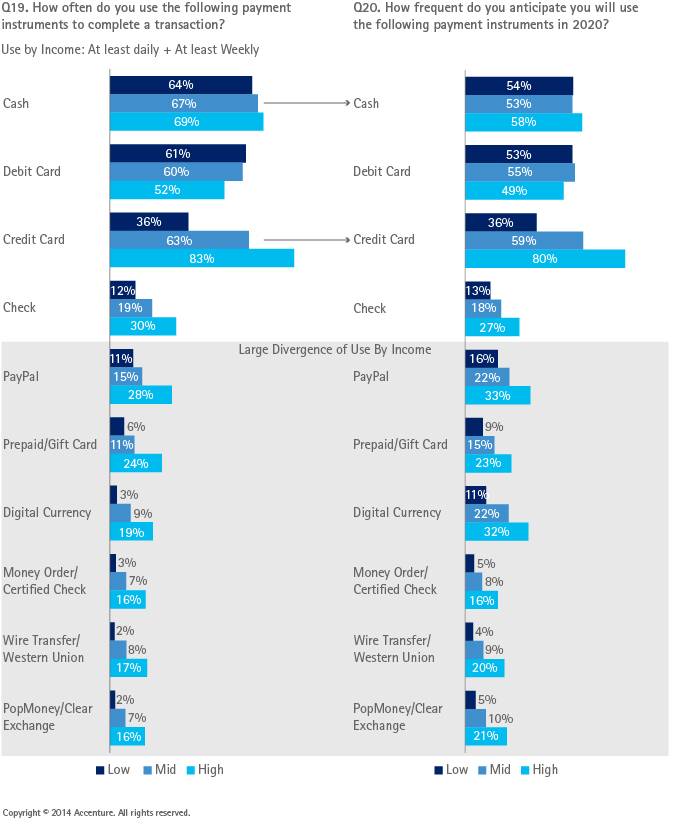 2. Digital currencies are more widely used among high-income consumers
Our comparison of weekly use of digital currencies among different income groups reveals that digital currencies are more widely used by high-income survey respondents. Today, 13 percent say they use digital currencies at least weekly, and in 2020, 20 percent expect to do so.
Use of Digital Currencies in 2014 and 2020: Income Level Comparisons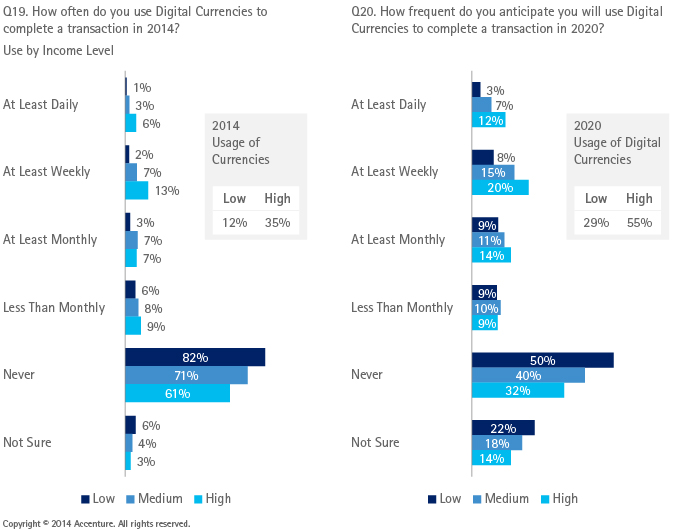 3. High-income consumers are first movers in mobile payments adoption.
High-income consumers are more likely to use their phone for mobile payments than lower income consumers. In fact, 55 percent of high-income survey respondents indicate that they have used their phone as a mobile payment device, compared to 33 percent of low income survey respondents.
Use of Mobile Phones in 2014: Income Level Comparisons
Finding the way forward
While the payments industry cannot take a one-size-fits-all approach to serving high-income customers, these trends should inform their strategies moving forward. Access and connectivity are generally not barriers for their adoption of emerging payments instruments. Serving this group as they explore new ways to pay will mean redefining what "premium" means to them.