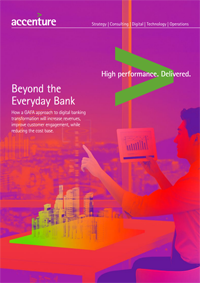 In the first blog of this series, we discussed the rapidly changing banking environment and how the combination of empowered consumers and aggressive competition from digital players outside the industry are pushing banks to transform themselves.
The top C2B players – including Google, Apple, Facebook and Amazon (GAFA) are expanding the range of their offerings beyond shopping, entertainment and travel into products and services that affect consumers' health, their homes, and their money. The GAFA approach generates tremendous amounts of data that can be analyzed in real time to obtain customer insights. These insights, in turn, can serve as the basis for opportunities to cross- and/or up-sell new or complementary products.
Companies need to confront key strategic questions including: What is the total investment for the digital agenda? How should that budget be allocated to "GO Digital" initiatives (businesses chosen for focus) and "BE Digital" initiatives (enabling and optimizing the overall enterprise)? For both GO Digital and BE Digital initiatives, what are the priority items? Should the bank go it alone or partner up with financial technology (FinTech) providers?
Within the GAFA banking portfolio, there are three major GO Digital sets of platforms and/or businesses to consider:
Provide digitally powered financial platforms. Banks can offer physical and digital choices, both in terms of access (allowing the customer to decide when and how to engage with the bank) and in terms of an easy and simple experience. For example, depending on the business strategy, a digital advisory platform could be developed for affluent consumers, evolving each step in the advisory value chain, from prospect collection and onboarding to client engagement, investment portfolio proposal, and illustration of various offerings and products.
Tap into experiential living services. Banks could consider partnering with others to develop platforms that deliver "living services" – that is, services that can adapt in real time to fulfill the needs arising in customers' everyday lives. This means increasing the level of interaction with customers, having access to extensive data on their behaviors, and embedding customized financial services propositions in various areas including housing, health care, and traveling.
Develop new businesses. In order to multiply customer interactions and/or generate new revenue streams, banks should explore new businesses. Potential opportunities include becoming digital attackers to enter new geographies; monetizing branch space (by teaming with players like Amazon) and data monetization (by providing merchant-funded discounts and offers to merchant market intelligence and business insight. 
Developing experiential living services and new businesses will not only generate new revenue streams but will also act as a multiplier for customer interactions and touchpoints, helping the bank remain at the center of customers' lives and needs.
Read the full report – Beyond the Everyday Bank: How a GAFA approach to digital banking transformation will change everything.
In our next blog, we will look at some of the digital enablers that banks need to provide different products and services while performing the roles they have chosen.