---
In this series, we've looked at new challenges financial firms face with regard to anti-money laundering and know your customer regulations (AML/KYC). Our paper, Anti-money laundering and know your customer programs: Sustainability through managed services, and the companion SlideShare consider the various challenges facing firms. We hone in on workforce challenges, in particular, in Leveraging enhanced talent development programs to increase anti-money laundering workforce effectiveness.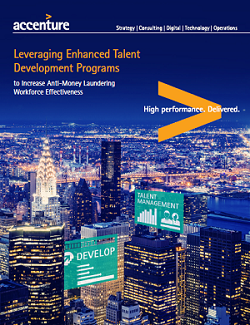 There's good news! In this series we've explored several options and alternatives for building a strong AML/KYC program and workforce, whether using home-grown talent, managed services or virtual help.
The question, though, is: How can an enterprise choose the best, most appropriate solution for the set of concerns it faces? Should a particular process be handled by robotic process automation (RPA), a managed services team or an internal resource?
To begin evaluating options, firms can start by evaluating the various processes that come into play. Processes that are highly complex may best be suited to internal teams, whereas processes with low complexity and high operational volume might be ideal for a managed services approach.
A close review of processes is helpful around the RPA question too. High volume, highly manual activities lend themselves to automation. But with RPA, additional considerations come into play: What's the likelihood for human error? Are decisions made based on rules, or is human judgment needed? How many systems are involved? Do the process rules change frequently, or are they relatively stable? Each of these can help identify whether a process is suitable for RPA.
Likewise, firms can realistically assess their existing processes and talent pool—and also their existing ability to prepare talent for a changing role. Is the learning program well established and effective? Are current processes effective and of high quality? Is data captured along the way? Are the various involved functions integrated or siloed?
For most, if not all, financial services businesses, a combination of existing or new talent, managed services and RPA will be the answer. The challenge will lie in trusting the technology, and in aligning the right actions to the right resources.
Stay tuned. For my last post in this series, let's consider how businesses can prepare to transition to a new model.