Kudos to the gurus: ten years ago, the prediction was that digital would be driving every business today. It is. However, something else has happened, too. Digital now has a co-star. Sustainability.
Top billing is no longer solo: it's a dual affair.
Green economy and digitalization are the two pillar concepts in Europe's Recovery Plan. That's no accident. It's a necessity, for these are the two overriding priorities for institutions and businesses as we transition to the future. Far from being exercises in flag-waving or image promotion, these themes are now central to business growth. Numerous studies have shown that companies that put sustainability and digitalization at the heart of their enterprise perform better than others. What's more, these twin themes are set to weigh more heavily on ratings, as companies will soon be required to demonstrate every year how they have performed against certain targets.
This is an opportunity banks must not miss. Indeed, the time is ripe for them to rebuild customer relationships based on trust and take a position on the ESG values that consumers today want to see reflected in the brands they choose to adopt. Fortunately, banks are well-placed for the task. Given that financial institutions have a cross-industry role, and that sustainability is relevant across all industries, banks have a pivotal role in integrating ESG values in the business ecosystem.
Encouraging signs have already emerged: in the past six years, the banking industry has begun focusing on the United Nations' Sustainable Development Goals and is now endeavouring to organize collectively to achieve them. One example is the Glasgow Financial Alliance for Net Zero, led by Mark Carney, former Governor of the Bank of England.
Retooling the bank for sustainable lending
Banks that lead in sustainable finance will strengthen public trust, stay ahead of regulatory expectations and have significant growth opportunities.
LEARN MORE
Banks are now well on their way to a totally new space. In the initial phase, between 2015 and 2017, a new awareness swept through the industry, leading to the introduction of unprecedented roles and commitments. 2018 to 2020 were years of reckoning. At a time when much energy was spent on the ideation of new products, the industry was heavily scrutinized and subjected to stringent regulatory stress tests. In 2021, the pace of change is accelerating. The renewed urgency to create value right across the market, from lending to consulting, has pushed banks to embed sustainability and the ESG agenda in all of their business processes. But this poses a major challenge: how to manage data and information.
I think that the biggest test ahead of us will be figuring out how to manage, in a structured and transparent manner, the mass of ESG data that companies will be required to publish from 2022. In addressing this new challenge, our tendency to think of this type of data as de-structured may cause us to fall for the greenwashing phenomenon.
Furthermore, in parallel with the predictable increase in the amount of ESG data that they will be required to disclose (and upon which the Corporate Sustainability Reporting Directive will shed greater light), banks and other institutions will be drawn into a dialogue likely to intensify over time.
The silos approach has no place, here.
As with digital before it, the question of sustainability, too, will have to permeate all core business processes and the entire value chain. All of this dynamism will open up new opportunities, from the inception of new competencies in emerging technologies (artificial intelligence, cloud, blockchain) that can support banks in achieving their sustainable development goals to forging totally new customer relationships firmly anchored by trust and transparency.
The strategy for the future of banking is all to play for. The cards have been dealt. The ace is sustainability.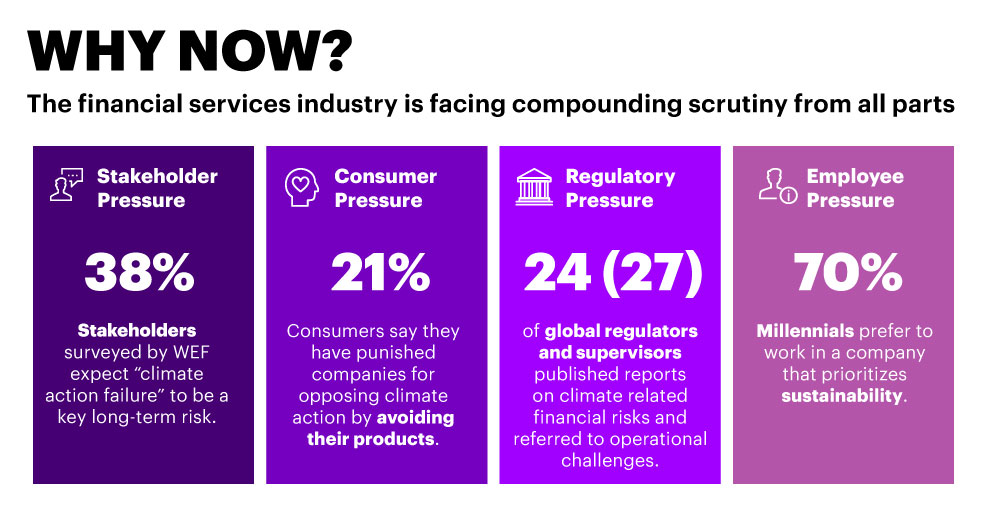 Get the latest banking industry insights, news, and research delivered straight to your inbox.
SUBSCRIBE
Disclaimer: This content is provided for general information purposes and is not intended to be used in place of consultation with our professional advisors. This document may refer to marks owned by third parties. All such third-party marks are the property of their respective owners. No sponsorship, endorsement or approval of this content by the owners of such marks is intended, expressed or implied. Copyright© 2022 Accenture. All rights reserved. Accenture and its logo are registered trademarks of Accenture.