Machiavelli was of the opinion that if you were a Prince it was "better to be feared than loved if you cannot be both". As the Princes (if not Kings) of the digital world, Google, Apple, Facebook and Amazon (GAFA) don't seem interested in wooing the banks and are instead doing a good job of generating a fair amount of fear and anxiety. For GAFA, banking services are an extension and enhancement of broader customer relationships anchored in connections, community and commerce, and they are starting to get traction. Google's Android Pay now has millions of users[1], and Apple Pay is now accepted in over a million merchants.[2] Facebook is working on a way for consumers to use Messenger to pay for goods in person,[3] and Amazon's Pay Monthly lets customers pay for big ticket items on an installment credit plan.[4]
In North America and Europe, these innovations still account for only a tiny fraction of banking revenue, but if you want a glimpse into a possible future, add another A to GAFA and look at China.  Alipay the payments arm of ecommerce giant Alibaba processed nearly $1 trillion of payments in 2015; well over 3 times the volume running through US e-payments leader PayPal. More broadly, Alibaba, Baidu and Tencent together dominate the e-commerce and P2P payments markets in China, and are increasingly squeezing the banks out of the transactional credit market as well.
Despite the twin threats of Fintech piranhas and GAFA juggernauts, it isn't inevitable that traditional banks will be marginalized in the digital world. Rather than fear GAFA, banks need to try and emulate them by playing a trio of competitive aces that they still hold in their hands: customer relationships, transactional trust and customer data. By exploiting these advantages, banks can control their own destiny, but the clock is running to play these cards effectively:
Master real-time data analytics to deliver advice and compelling offers within a customer's digital journeys. In the past, 'advice' meant a sit down with a banker to discuss a mortgage or retirement plan, but increasingly 'advice' in banking means the type of nudges, prompts and offers delivered by GAFA during every interaction.
Become more relevant by using customer data to expand the perimeter of the banking business. Banks have the data to understand both customers' aspirations and their day-to-day problems. By collaborating with ecosystem partners to help address health, work, and family issues, banks can move beyond transactional trust into the type of advisory relationship that many aspire to, but few achieve.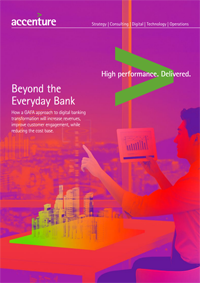 Master multi-channel and emulate the seamless flow of data and connectivity across channels and devices that is foundational for GAFA. In-person connections and face-to-face advisory will continue to have a role in banking, but customers will never feel 'known' by their banks if fragmented systems put the onus on the customer to join the dots. If banks can master the digital world, then integrated physical distribution can be a competitive advantage; but if customers see silos and fragmentation, then branches will become an anachronism for the millennial generation.
In a world where GAFA is looking to cherry pick elements of the traditional banking business, the incumbents need to decide which roles to play, which businesses to prioritize and transform, which new businesses to launch, and how to develop and deploy relevant digital enablers. GAFA players are used to dominating the markets they compete in, so if the banks are not careful, they could find themselves disappearing behind the curtain of the digital world and becoming no more than utility providers.  But it's not too late to stop that from happening if the banks play their hand well.
My colleague Piercarlo Gera shares more about the GAFA imperative and how banks can take a GAFA approach to transform their business in his Beyond the Everyday Bank blog series. You can also read the full report: Beyond the Everyday Bank.
[1] "Android Pay signs up "millions" of users, readies loyalty programs, NFC World, October 27, 2015. http://www.nfcworld.com/2015/10/27/339037/android-pay-signs-up-millions-of-users-readies-loyalty-programs/
[2] http://www.apple.com/apple-pay/where-to-use-apple-pay/
[3] "Facebook Preps In-store Purchases for Messenger," engadget, March 28, 2016. http://www.engadget.com/2016/03/28/facebook-messenger-payments-secret-conversations/
[4] "Amazon Wants U.K. Shoppers to Pay in Installments," Fortune, January 4, 2016. http://fortune.com/2016/01/04/amazon-lending/