In Shakespeare's Richard III, Queen Elizabeth gives her son, Dorset, some sound advice in the face of imminent danger: "take all the swift advantage of the hours."
Like Queen Elizabeth, bank executives are increasingly aware of the disruption they are facing.  85 percent of the bankers in the 2016 Accenture Technology Vision research expect the already rapid pace of technological change in the industry to accelerate over the next three years. So now is the time for banks to act wisely and swiftly to extract all the advantages they can from their current dominant position, before that position is weakened and undermined.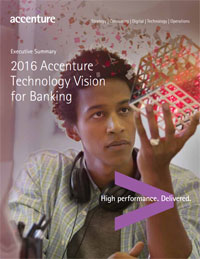 Our 2016 Banking Technology Vision research examines five trends that are creating opportunities for banks to empower people – customers, workers and partners – in new and powerful ways:
Platform Economy, where banks who collaborate within a platform-driven ecosystem of partners (including consumer-to-business and FinTech players) can create and exchange more value than in traditional vertically integrated banking models.
Digital Trust, where banks can blend the highest ethical standards with advanced data security to enhance both transactional and customer advisory trust.
Liquid Workforce, where "fluid" bank teams comprised of an agile mix of internal and external skillsets, organize around outcomes rather than processes, with a focus on changing the bank rather than running the bank.
Intelligent Automation, where a combination of software robotics and artificial intelligence increases the productivity of bank staff and frees up their time to focus on higher value added sales and service tasks.
Predictable Disruption, where banks draw on their industry knowledge, products and relationships to anticipate and take advantage of changes that arise from fast-emerging digital ecosystems, like connected cars.
While Shakespeare's Dorset heeds his mother's advice and flees to survive, banks need to address the threats they face by evolving and drawing on these five technology trends to put people first and reinvent themselves. That means addressing each trend from both a business strategy and technology enablement lens to plot the bank's most effective change path, and then taking advantage of the short window of time they may have to execute the strategy.
Banks that take swift advantage of these hours can thrive in an increasingly competitive market. Those that don't may face an uncertain future.
For more details on the five technology trends from a banking perspective, I invite you to read 2016 Accenture Technology Vision for Banking