---
One of the biggest long-term impacts of the COVID-19 pandemic is how it changed our relationship with work.  
Record numbers of people are re-thinking their careers right now. A survey of 30,000 employees across 31 markets in early 2021 found that more than 40% were thinking about leaving their current jobs. Between April and September of that year over 24 million Americans actually did. February 2022 marked the ninth straight month of at least four million resignations in the US. 
The Great Resignation, as this has been called, is not over yet—and it's a particularly urgent concern for financial services firms struggling to attract and retain talent. 
Disengagement and attrition amid disruption 
The most recent Accenture Future of Work study is built on a survey of over 9,300 workers around the world, including over 1,000 in financial services. It found that financial services workers are more ambivalent and less optimistic than the global workforce as a whole.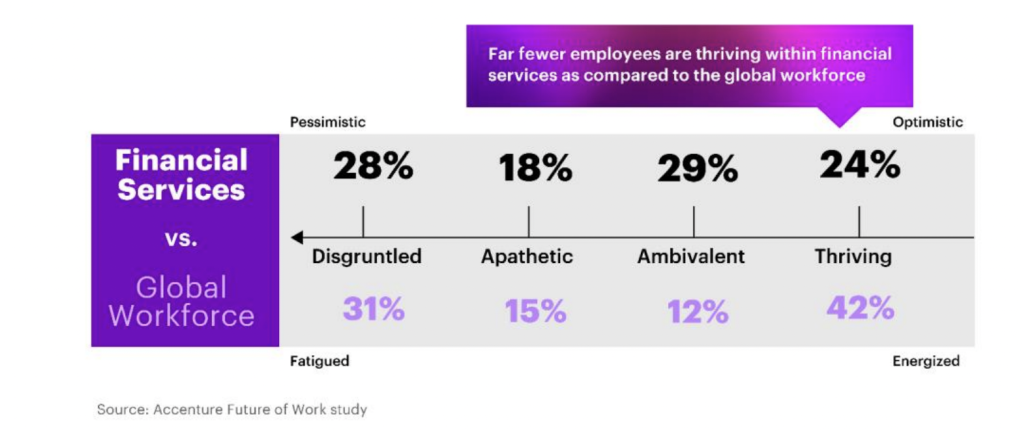 The Great Resignation has also arrived amid a storm of disruption in banking. Financial services firms today must react to game-changing strategic trends on four fronts: 
New customers

are entering the marketplace. US households are expected to transfer

$68T of wealth over the next 25 years

. This will challenge traditional customer expectations as millennials, women, and people of color make up larger portions of banking customers.

 

New competitors

are providing the digital experiences that customers are craving. Fintechs, super-apps, and digital currencies all threaten traditional financial services firms in various ways.

 

New demands

are changing what succeeds in the marketplace. While

seven out of 10

banking customers say they want human advice in a digital experience, many banks today offer digital experiences that are functionally correct but emotionally devoid.

 

New expectations

are shaping what consumers think of banks. They

are four times more likely

to connect with a purpose-driven business, which means banks need to rethink their offerings, services and reputations.

 
In response, banks are all developing new operating models and customer experiences while seeking to grow their organizational agility with help from the cloud. This requires bringing new skills into the organization, through both hiring and training.  
But only 10% of Gen Z and millennials are interested in finance careers (compared with one in four expressing interest in the technology sector), and too few banks have embraced a culture of continuous learning. 
Reimagining banking culture 
The trends listed above are also coming to bear as the impact of the pandemic on employers finally comes into focus. It's now clear that all organizations looking to compete and grow post-pandemic must consider: 
Employees' physical and emotional well-being

 

Giving workers a sense of purpose and meaning in their day-to-day work

 

Creating trust and a positive environment in the workplace

 

Doing more in areas such as diversity and inclusion

 
Yet new data from Accenture Organizational Analytics shows that there is substantial work to do on the cultural front. 
To understand workplace culture in the industries we serve, our team used AI to collect and analyze publicly available digital information for 200 organizations across five industries, including financial services. These no-touch assessments used information from the employers (annual reports, earning transcripts and so on) and from current and former employees (mostly from websites like Indeed and Glassdoor). Our AI-enabled analytics engine analyzed over 485,000 comments to identify core themes of workplace culture and evaluate net sentiment for each organization. 
The analysis found that while banks score well on rewards and brand, a major weak point is their social dynamics and leadership—another way of describing workplace culture. The net sentiment score of zero shown in the chart below means that the portion of current and former banking employees with negative views of their workplace culture is equal to or greater than the portion of those with neutral or positive feelings.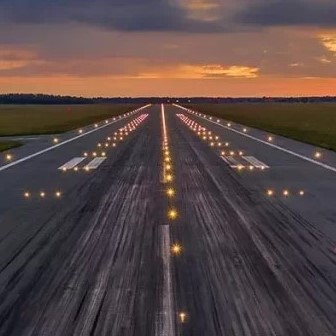 Banking Cloud Altimeter | Volume 6: Banks need a flight plan to navigate the cloud.
LEARN MORE
Overall, these sentiment scores suggest that the average worker at the average bank stays there because of the rewards, the growth opportunities, and the prestige. Workplace culture is generally more of a burden than a benefit, and this has an impact on retention.  
This is corroborated by the employee comments we analyzed. Many of them call for more collaboration and flexibility in their day-to-day work. Bank employees today want to choose how and when they work, and build cross-functional teams with colleagues from across the organization. They see a need for greater social connection in the workplace and stronger relationships with senior leaders. 
When we look at employee net sentiment towards workplace culture across industries, banking scores the lowest of all five industries studied. ("H&PS" stands for "health and public service, while "CMT" means "communications, media and technology.")  
This shows that culture is a major weak point for most banks. On an industry level, the consequences of not addressing this over the long term will be significant. But banks that can create a workplace culture that draws people in rather than pushes them away will enjoy real competitive advantage. They will truly stand out from the crowd of potential employers. 
A moment of challenge—and opportunity 
I've written previously that over the years, talent practices in banking have lost their focus on people. The data presented above corroborates this point—and suggests that the urgency to act has never been greater.  
As the impact of COVID-19 and the cloud transformation on banking becomes clear, so does the tremendous opportunity waiting for talent professionals at banks who can reshape their organizational cultures.  
In my next post, we'll look at how to get started.  
Dive into the details of our latest Future of Work report, or contact me here to learn more about culture change in financial services.   
Read report
Disclaimer: This content is provided for general information purposes and is not intended to be used in place of consultation with our professional advisors. This document may refer to marks owned by third parties. All such third-party marks are the property of their respective owners. No sponsorship, endorsement or approval of this content by the owners of such marks is intended, expressed or implied. Copyright© 2022 Accenture. All rights reserved. Accenture and its logo are registered trademarks of Accenture.