Other parts of this series:
---
Guest bloggers Ben Lopez and Charlie Arthy continue their series on achieving simplified, future-ready bank operations. 
---
For banks to take full advantage of the opportunities brought by Open Banking—from monetizing data to banking-as-a-platform—to grow their business, they will need to embrace and infuse Open Banking technologies into their operations. The goal? To optimize and simplify their operations for agility to capture opportunities driven by market change.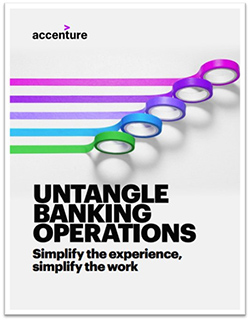 Open APIs, for example, serve as a bridge between software components to connect banks with ecosystem partners (such as fintechs) in providing better customer service, enable end-to-end straight-through processing and help banks shrink their legacy systems' footprint in favor of lightweight architectures built on microservices and the cloud. Then, by moving and running their core banking systems in the cloud, banks can gain the efficiency, scale and scope they need to launch new products and services faster and provide real-time services, 24/7, across any channel with minimal IT infrastructure investment.
Collectively, Open Banking technologies, data-access methods and development methods allow simpler transformation of bank operations where modern systems can be built and executed on top of legacy systems. It is how banks will gradually migrate critical customer-facing functionality and expose key data to new platforms at a market-relevant pace. Having systems decoupled also helps banks open their ecosystem to third-party service providers, which enable them to create new digital customer journeys that would otherwise be constrained by legacy core banking systems.
That's the route that a mid-sized regional US bank took. The bank built an integrated, omni-channel platform to run across both its retail and corporate banking businesses and deliver an innovative and distinctive digital bank experience to its more than 500,000 customers who represented more than 850,000 accounts. The solution took advantage of leading-edge cloud-based software to seamlessly integrate years of disparate acquired bank technology, unify digital initiatives and deliver capabilities regardless of the customer segment, all while keeping the core banking IT intact and improving the customer experience. An innovative banking platform with open-architected IT allowed for a broader set of potential capabilities to build the best solution at scale. Altogether, it enabled the bank to launch its highly personalized digital banking customer experience and deliver the same experience across all channels—online, branch and phone- without having to expand back-office operations.
Open architectures make it possible for banks to create their own portals, reaching the needs of individual customers and attracting new business banking clients. Such a strategy for renewing bank operations supports a more personalized customer experience and revenue growth, while retaining the elements of legacy IT that are commoditized. Banks can then respond to market changes with greater speed, efficiency, scale and confidence.
Read our new report, Untangle Banking Operations: Simplify the Experience, Simplify the Work, to learn more about how new technologies create future-ready bank operations.
In our next blog, we will discuss the shifting role of the bank COO beyond cost efficiency and improvements to effective customer and employee experiences.