The economic crisis and scandals across financial services have rocked trust and confidence in banks. In a 2014 Accenture survey, only 39 percent of UK customers felt banks are ethical, 51 percent thought they are fair and 52 percent trustworthy. This hurts anyone who has worked in the sector, seen the hard work of people in branches and the positive impact banking can have on individuals, communities and business when it works well.
It is clear that regulation and rules alone will not solve this issue.
Banking Standards is an important step in putting banking back on the 'front foot' and restoring trust in the industry.
In May last year, the Banking Standards Review called for a positive industry-led change in standards, capability and customer outcomes, initiated by the Chairmen of Barclays, HSBC, Lloyds Banking Group, Nationwide, Royal Bank of Scotland, Santander and Standard Chartered. The BSRC have recently announced Alison Cottrell as their new Chief Executive and Dame Collette Bowe as their Chair. So 2015 will be an important year for this initiative, compounded by the related changes being driven by the FCA and PRA around the Senior Managers Regime, Certification Regime, Conduct Rules and Remuneration.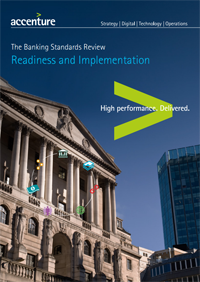 Late last year, Accenture held a round table with Sir Richard Lambert and a dozen of the large banks and building societies. There is a strong appetite for collective action. As part of this industry-led effort, the Banking Standards Review Council will need to play a key role to set positive standards, support the professionalisation agenda and play a key role in assessment of progress.
So how do individual banks and building societies get ready for these changes? In our new paper and infographic, we explore how individual banks and building societies can get ready for this change and introduce five themes for success:
Engaging leadership teams as role models, positively communicating the need for professional standards
Aligning the operating model and processes to motivate and reward positive behaviours, as well as removing obstacles
Focusing on making 'micro changes' in behaviours and decision-making, small steps that are relevant to frontline staff
Building strong professional capability and skill in ethical decision making, including professional qualifications such as Chartered Bankers
Use measurement of culture, capability and customer outcomes to help raise standards and create greater transparency
The Banking Standards Review presents the industry with a real opportunity to transform behaviours and decision-making in a way that regains the trust of customers, shareholders, regulators and government. We see banking standards as an area of interest and real focus for business leaders, senior risk and HR professionals, executive directors, non-executives and chairmen.
We are passionate about this topic and helping our clients and the industry as a whole succeed in raising banking standards. If you would like to discuss how your organisation can make the most of this opportunity, please contact David Parker or Andy Young.