There has been a lot of talk about banking industry disruption among those who follow the industry, myself included.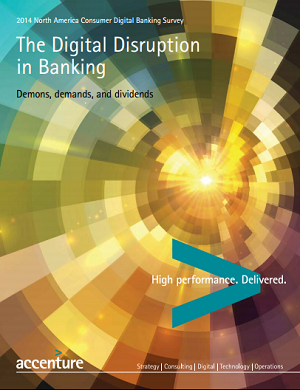 My colleague and I recently wrote about the growing threat of non-bank competitors such as Pay Pal, Starbucks and Google that are chipping away at traditional banks' market share across multiple revenue areas from payments to financial services. What's more, niche digital disruptors are becoming so attractive that major financial institutions are acquiring them (case in point: BBVA's recent acquisition of Simple for $117 million.)
Accenture's 2014 North America Consumer Digital Banking Survey brings a critical voice to this conversation—perhaps the most important voice of all—the voice of the banking customer.
What we learned offers a wake-up call to banks about just how vulnerable to disruption historically stable customer relationships have become. This is a shift that Accenture predicted in our Banking 2020 view of the next decade in banking, and one that is gaining significant momentum.
According to the survey, nearly half of US and Canadian banking customers would likely bank with a company that they currently do business with but that does not offer banking services today. The number surpasses 70 percent for people 18 to 34. These companies include financial players such as PayPal and Square and brands outside the financial sector like Apple, Google and Amazon. Interestingly, each had rates of potential interest from customers in excess of 25 percent.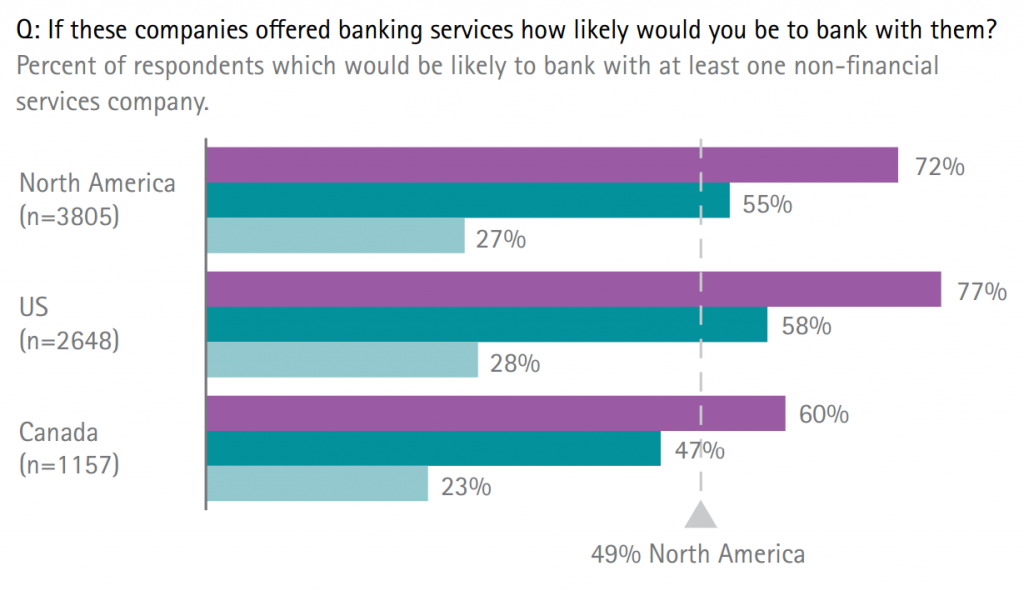 This data makes it clear that new market entrants—whether trusted players outside the banking sector or agile digital disruptors hyper-focused on the customer experience—are a force to be reckoned with for traditional banks. There are actions that banks can take to protect their market share:
Enable omni-channel banking to provide customer experiences that engage and delight customers.
Re-invent the banking ecosystem to provide new services that today's customers want.
Deepen customer relationships, exchanging transactions for meaningful connections to customers' daily lives.
Banking customers know what they want, and digital disruption has changed their demands. New market entrants are paying attention, and traditional banks must too or risk getting left behind.
I encourage you to explore the survey for additional insights into banking industry disruption.