Millennials get most of the attention these days in retail banking, yet there is a lot to say about 55+ consumers too.
A generation at a turning point
These consumers are at a unique moment in their financial lives. Those who are approaching retirement are in the final stages of building the nest egg that will give them financial security into their golden years. And many retirees must adjust to living on a fixed income and managing planned and unplanned expenses much differently than they did when they were working.
Attitudes and insights
Accenture conducted its annual survey of 4,000 consumers in the United States and Canada. Thirty-one percent were 55+ consumers. Their responses reveal three key trends in this group's views of banking:
1. 55+ consumers are satisfied with their banks—but not like last year.
Among all demographic groups, 55+ consumers have the highest satisfaction with their banks at 37 percent (compared to 29 percent for 35 to 54 and 30 percent for Millennials.) Even so, their satisfaction rates are down 9 percentage points since 2015, the largest decline in satisfaction across all groups.
2. 55+ consumers want full-service bank branches—now and in the future.
55+ consumers are drawn to full-service bank branches that offer extended office hours and full sales support more so than their younger counterparts are. When asked about whether they would use bank branches in the future, 90 percent of those 55 and over said they would, more than any other group.
3. 55+ consumers have low switching rates –but signs suggest this could change.
While where was a slight rise in overall North American banking switching rates from 2015 to 2016 (from 10 to 11 percent), switching levels among 55+ consumers stayed flat at just 3 percent. This was the lowest switching rate among all groups surveyed. Despite this, nearly a third (29 percent) of this group don't consider switching to be hassle.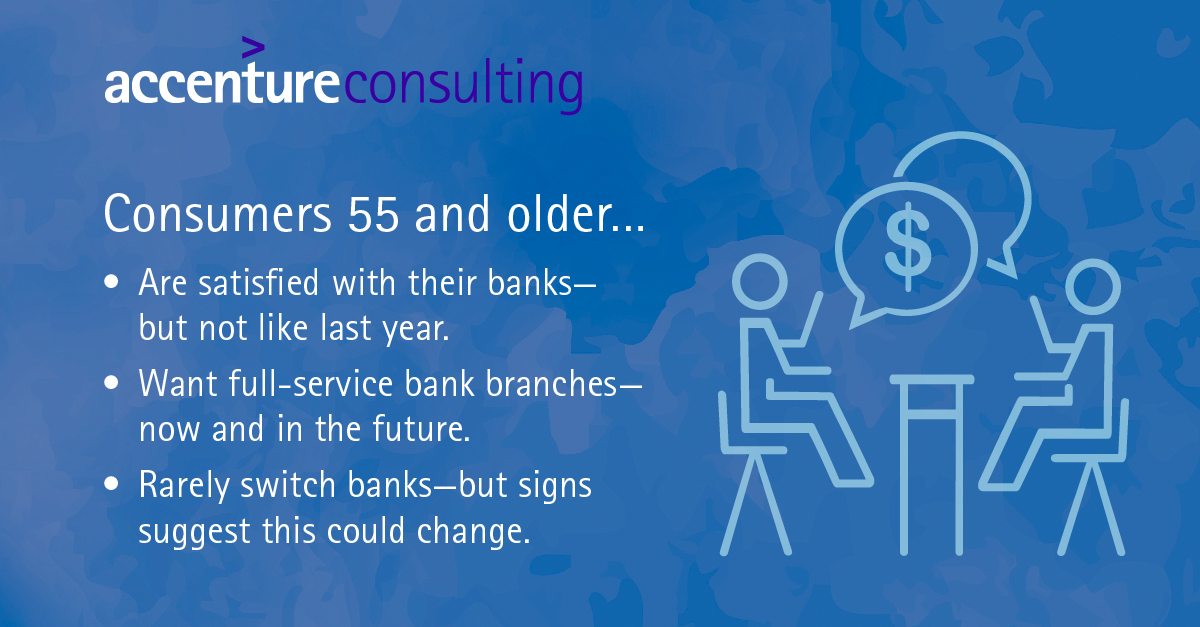 The right banking customer experience
As banks develop banking customer experiences that suit this generation, they must understand key characteristics among 55+ consumers to be successful:
Loyalty is not set in stone. Despite high satisfaction and low switching, 55+ consumers are more willing to go to third-party lenders for all major lending categories over all other peer groups. And they have the lowest participation in loyalty programs at 26 percent.
Reluctance to share data is a barrier. While banks can use customer data to shape banking customer experiences, this group is less interested in providing personal financial data to banks to share with third-party ecosystem partners.
Silvers surfers expect digital options. Banks that assume older consumers are "analog-only," are mistaken. Many welcome digital tools. For example, though their collective interest trails Millennials, a majority of 55+ consumers are interested in robo-advice for investment purposes.
This generation is too important to be overlooked—and too unique for one-size-fits-all banking customer experiences.
Learn more
Explore Accenture's 2016 North America Consumer Digital Banking Survey.