Credit card receivables & purchase volume YoY growth: 1Q22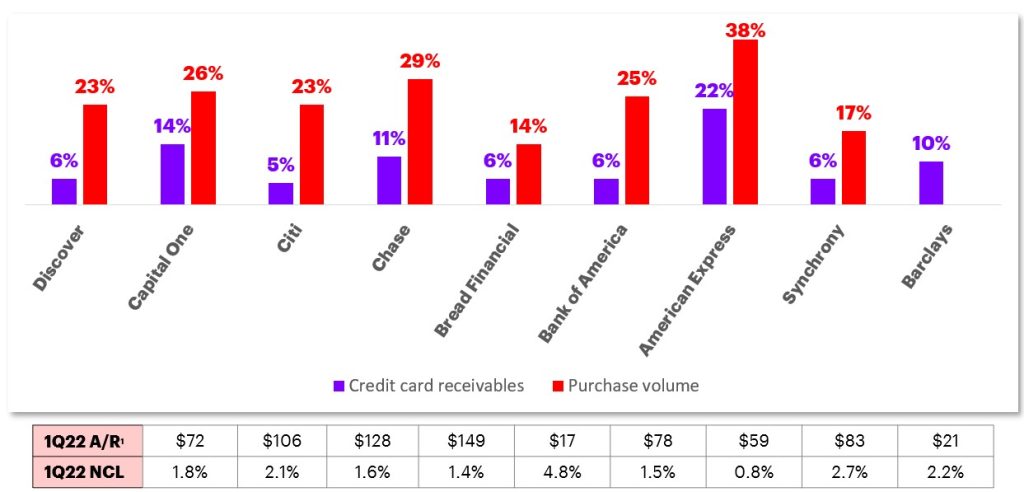 Click/tap on image to enlarge.
1 Average Receivables in Billions. Note: Citi inclusive of both Branded and Retail Services. AXP is Revolving only. SYF A/R is Retail Card, NCL is total company. 
Earnings call commentary
Growth
"Spending growth was led by the acceleration of volumes from millennial and Gen Z consumers up 56%. Goods and services spending continued to accelerate… Travel and entertainment spending was up 121% globally, driven by strong growth in consumer travel spending."– American Express
"From our card spend data, we have seen a strong recovery in travel, entertainment, and restaurant spending and even with the fuel costs up 40%, fuel represents about 6% of overall debit and credit card spending."– Bank of America
"In Q1, consumer activity remained strong with credit sales up 14% YoY with particular strength from our beauty vertical and co-brand and proprietary travel and entertainment sales." – Bread Financial
"Overall, the growth in our card business is in our branded card franchise as opposed to co-brand and private label partnerships. In Branded Card, we enjoy the full economics of the business, and we own the customer franchise." – Capital One
"Combined credit and debit spend was up 21% YoY with growth stronger in credit as we see a continued pickup in travel and dining. And as the quarter progressed, we saw a robust re-acceleration of T&E spend, up 64%." – Chase
"Card revenues are down 2%. But you have to look through the investments that we're making in acquisitions and the rewards costs associated with those that impact that revenue being down 2%." – Citi
"YoY card sales were up 23% with improvement in all categories. There's been discussion of energy price inflation impacting consumer spend. Higher prices at the pump were a small contributor to sales volume, adding approximately 200 bps to Q1 volume growth." – Discover
"The combination of strong purchase volume and a slight moderation in payment rate drove loan receivables growth on a core basis." – Synchrony
Credit quality
"The average card balance of our credit card customers that had deposit relationships are still 8% lower than they were pre-pandemic. They continue to pay down their balances on a monthly basis at a higher rate than pre-pandemic." – Bank of America
"Payments are remaining strong. But what I would say is what was important to us, and you can see it start coming through in our loans and the revolve rate and finance charges is payment rates are starting to come down a little bit from where they were." – Bread Financial
"Consumer balance sheets and labor markets are strong. And in our own portfolio, credit results continue to be well below pre-pandemic levels and are normalizing gradually." – Capital One
"We are improving our credit outlook. While there's still some uncertainty about the back half of this year, our current credit performance and delinquency trends give us confidence in a tighter range." – Discover
Partnership/product
"We announced a new financial advice service with Vanguard, exclusive for our U.S. consumer Card Members, which brings together Vanguard's digital financial planning and investment management expertise with our industry-leading membership rewards." – American Express
"Bread Pay represents the payment and lending offerings on a versatile fintech platform, which includes our buy now, pay later solutions and our strategic relationships with Fiserv, RBC and Sezzle." – Bread Financial
"We announced the early renewal of our long-term agreement with Victoria's Secret, our largest and longest tenured brand partner with nearly 1,400 stores. As part of this renewal, we launched a new co-brand credit card." – Bread Financial
"We also renewed our relationship with LendingClub, which further extends the growth of our diversified verticals. With these new renewals, over 90% of our loan balances, excluding BJs, are now secured through 2023 at nearly 75% through 2025" – Bread Financial
"We announced the launch of our new and refreshed co-branded PayPal Cashback credit card. The consumer will earn unlimited 3% cash back when paying with PayPal at checkout and 2% everywhere Mastercard is accepted. The card has no annual fee, no category restrictions and can be added to the digital wallet for easy, fast and secure checkout." – Synchrony
Digital
"We're accelerating our focus on fintechs to drive more innovation, including our new partnership with i2c, which will enable fintechs to more seamlessly and quickly issue new products on the American Express network." – American Express
"We continue to add new online brand partners on our Bread Pay platform and we introduced our in-store checkout pilot with Fiserv on their Clover app." – Bread Financial
"Adding the digital capacity clearly increased our total production capabilities. Zelle and Erica volumes are up more than four times pre-pandemic levels. We're now processing more outgoing Zelle transactions than checks." – Bank of America
"Our digital transformation is generating new business opportunities like Capital One Shopping in our card business." – Capital One
"The PayPal card experience will be fully integrated with the PayPal app empowered by native APIs. Customers will be able to apply for the card and service their accounts all within the app as well as receive personalized notifications and alerts to manage their credit account " – Synchrony
Outlook
"There are emerging headwinds as well, for example, high price inflation which may erode excess savings accumulated through the pandemic, especially if price increases outpace wage growth." – Capital One
"I don't think the U.S is going to have a recession this year, strong underlying growth will continue… confidence isn't high, but consumers have $2 Trillion in savings and checking accounts, businesses are in good shape, home prices are up, credit is extraordinarily good." – Chase
"Our view is that strong nominal income growth and continuing momentum in the labor market will help support near-term growth in the U.S. economy in the face of inflationary pressures." – Citi
"The pandemic now has a lesser impact on our outlook. The primary sources of risk have shifted to the impacts of inflation and a potential slowdown from Fed actions. While the risk has shifted, the economic view of the U.S. consumer remains healthy."– Discover
Reserves/provision
"Provision expense was $30 million in Q1 as reserve release of $362 million closely matched net charge-offs in the quarter. The reserve release was primarily in our consumer portfolios." – Bank of America
"We released $175 million from reserves and our reserve rate continued to decline. The reserve release primarily reflects the sustained strong credit performance in our portfolio, offset by loan growth."– Discover
"Reserve build of $902MM, approximately $600 of which is portfolio level. It reflects the slightly higher probability of a Fed-induced recession in response to the current inflationary environment." – Chase
"We maintain over $9.8 billion in credit reserves against our U.S. card portfolio, or approximately 7.6% of total loans" – Citi
Source: Bank quarterly earnings reports and earnings call transcripts.
Copyright © 2022 Accenture. All rights reserved.

Disclaimer: This content is provided for general information purposes and is not intended to be used in place of consultation with our professional advisors. This document may refer to marks owned by third parties. All such third-party marks are the property of their respective owners. No sponsorship, endorsement or approval of this content by the owners of such marks is intended, expressed or implied. Copyright© 2022 Accenture. All rights reserved. Accenture and its logo are registered trademarks of Accenture.